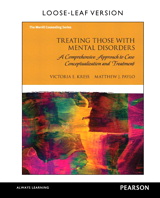 Description
Treating Those with Mental Disorders: A Comprehensive Approach to Case Conceptualization and Treatment is the authoritative reference on selecting and applying treatments for use in counseling and treating those with mental disorders. In it, students and new counselors don't just learn about the clinical issues, the DSM-5 system of diagnosis, and interventions that can be used in counseling and treating those with mental disorders, they see clearly how to proceed in treatment planning and how to implement treatment approaches and interventions. The authors present a conceptual framework model, I CAN START, which consists of case conceptualization components and addresses treatment planning from a strength-based, contextually sensitive perspective. Case studies; creative Clinical Toolboxes; Voices from the Trenches; a comfortable presentation of the material; and a comprehensive, rigorous assimilation of the current treatment literature combine to empower counselors to thoughtfully and deliberately help their clients tackle their complex issues and difficulties.
Enhanced Pearson eText. Included in this package is access to the new Enhanced eText for exclusively from Pearson. The Enhanced Pearson eText is:
Engaging. Full-color online chapters include dynamic videos that show what course concepts look like in real classrooms, model good teaching practice, and expand upon chapter concepts. Video links, chosen by our authors and other subject-matter experts, are embedded right in context of the content you are reading.

Convenient. Enjoy instant online access from your computer or download the Pearson eText App to read on or offline on your iPad and Android tablets.*

Interactive. Features include embedded video, note taking and sharing, highlighting and search.

Affordable. Experience all these advantages of the Enhanced eText along with all the benefits of print for 40% to 50% less than a print bound book.
*The Pearson eText App is available for free on Google Play and in the App Store.* Requires Android OS 3.1 — 4, a 7" or 10" tablet or iPad iOS 5.0 or newer
0133834255 / 9780133834253 Treating Mental Disorders: A Strength-Based, Comprehensive Approach to Case Conceptualization and Treatment with Enhanced Pearson eText -- Access Card Package
Package consists of:
0133740722 / 9780133740721 Treating Those with Mental Disorders: A Comprehensive Approach to Case Conceptualization and Treatment
0133828387 / 9780133828382 Treating Mental Disorders: A Comprehensive Approach to Case Conceptualization and Treatment, Enhanced Pearson eText -- Access Card
Table of Contents
Chapter 1: Introduction to Comprehensive Case Conceptualization and Treatment Planning
Chapter 2: Ethics and Realities of Diagnosing and Treating Individuals with Mental Disorders
Chapter 3: Clinical Issues Relating to Treatment
Chapter 4: Depressive and Bipolar Disorders
Chapter 5: Anxiety Disorders
Chapter 6: Obsessive-Compulsive and Related Disorders
Chapter 7: Trauma- and Stressor-Related Disorders
Chapter 8: Substance Use and Addictive Disorders
Chapter 9: Personality Disorders
Chapter 10: Schizophrenia Spectrum and Other Psychotic Disorders
Chapter 11: Feeding and Eating Disorders
Chapter 12: Elimination, and Disruptive, Impulse Control, and Conduct Disorders
Chapter 13: Neurodevelopmental Disorders, Neurocognitive Disorders, and Motor Disorders
Chapter 14: Dissociative Disorders and Somatic Symptom Disorders
Chapter 15: Sexual, Gender, and Sleep Disorders