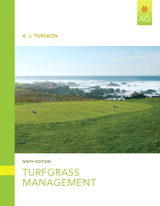 Description
For introductory courses in Turfgrass Management, Turfgrass Pest Management, and Turfgrass Cultural Systems.
Highly regarded for its thorough coverage of turfgrass science and technology,
Turfgrass Management, Ninth Edition,
addresses the important features of turfgrass systems, interactions, and management. Rich with illustrations, this book unlocks the mysteries of turf and establishes the role of cultural interventions in achieving specific objectives. Among its many updates, this new edition features expanded coverage of history of turf, anatomy and morphology, climatic adaptation, and soil physics.
Table of Contents
1. Introduction
2. Growth and Development
3. Turfgrass Species
4. The Turfgrass Environment
5. Primary Cultural Practices
6. Supplementary Cultural Practices
7. Pest Management
8. Propagation
9. Cultural Systems
Appendix 1: Conversion Tables
Appendix 2: Calibration
Appendix 3: Common and Chemical Names of Pesticides Used in Turf
References
Glossary
Index
Purchase Info ?
With CourseSmart eTextbooks and eResources, you save up to 60% off the price of new print textbooks, and can switch between studying online or offline to suit your needs.
Once you have purchased your eTextbooks and added them to your CourseSmart bookshelf, you can access them anytime, anywhere.
Buy Access
Turfgrass Management, CourseSmart eTextbook, 9th Edition
Format: Safari Book
$65.99 | ISBN-13: 978-0-13-707439-6