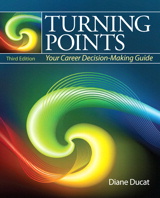 Description
Turning Points is a practical resource that covers self-assessment, career exploration, job search, and goal-setting.
It has been revised to provide updated advice on uncovering job and internship leads, creating resumes and cover letters, and interviewing effectively. Networking skills are emphasized, and the value of college internships is highlighted. Effective goal-setting techniques are introduced. Educational decisions are presented as a crucial dimension of career development. To increase student awareness of why career opportunities are now in constant flux, examples of globalization and rapid technological innovation are interwoven throughout the text. There is a stronger focus on helping both traditional college-age and adult students present their skills effectively. The Instructor's Manual contains the text's major activities that can be posted on a course management system, chapter PowerPoints, assignments appropriate for ePortfolios, and a test bank.
Table of Contents
Contents
Preface
Acknowledgments
Part I: Preparing for Success: Understanding Who You Are and What You Need to Know
Chapter 1: Exploring Your Career Options, Step by Step
What Is Your Career Dilemma?
An Important First Step: Be Clear and Specific as You Describe Your Dilemma
Avoid the Errors Some Students Make in Describing Their Dilemmas
Consider Your Life Situation
What Internal and External Obstacles Do You Face?
What Kinds of Information Will Help You Solve Your Career Dilemma?
ASAP: A Systematic Approach to Searching for Information
Your Career Will Unfold in a Rapidly Changing, Interconnected World
Activity:
1.1: Define Your Career Dilemma and Take Stock of Your Need for Information
Chapter 2: Identifying Your Values and Personality Type
Three Routes to Happiness
Identifying Your Work Values
The Holland Personality Types: Help in Shaping Your Career Goals
The Myers—Briggs Type Indicator®: Consider Your Preferences for Various Work Environments
Activities
2.1: Who Are You? Analyze Your Career Dreams
2.2: Take a Work Values Survey
2.3: Put the Holland Personality Types to Work
Chapter 3: Identifying Your Interests and Skills
Your Interests and the Campbell Work Orientations
Your Skills and the Campbell Work Orientations
Portable Skills: Key Assets in the Global Workplace
Don't Overlook Career Stallers
Character Strengths: A Solid Foundation for Career Success
The Impact of Rapid Technological Change
Making Sense of the Information in Your Personal Profile Database
Activities
3.1: Assess Your Interests Using the Campbell Work Orientations
3.2: Understand the Skills Associated with Your Career Interests
3.3: Explore One of Your Top Five Character Strengths
3.4: Find Out How Others See Your Strengths and Skills
3.5: Complete Your Portable Skills Profile
Chapter 4: Gathering Information about Careers
The Value of Having Information about Careers
Putting the Career Database and the ASAP Method to Work for You
Step 1: Ask the Right Questions
Step 2: Search for Information
Step 3: Analyze Your Findings
Step 4: Plan Your Next Actions
Activities
4.1: Do an Informational Interview on a Career Field
4.2: Comparing Career Options
Chapter 5: Gathering Information about Four-Year Colleges and Graduate Schools
Making Sense of the World of Higher Education
Step 1: Ask the Right Questions
Step 2: Search for Information
Step 3: Analyze Your Findings
Step 4: Plan Your Next Actions
Make Sacrifices Now to Gain Benefits Later
When You Have More Education than Your Family
Should You Consider an Online Degree?
Activities
5.1: Do an Informational Interview on a College
5.2: Comparing Colleges
Part II: Setting a Direction: Choosing a Field, Preparing for It, and Showing You Are Qualified
Chapter 6: Making Career Decisions
Setting a Career Direction Is a Process
What's at Stake: The Significance of Career Decisions
Complicating Factors: Your Identity, Your Commitments, and the Job Market
Listen to Your Heart and Use Your Head
The Decision-Style Window
Resolving Career Decision-Making Conflicts: Making Trade-Offs
Setting Your Career Direction Takes Time
Make a Plan to Implement Your Decision
Think of Your Quest for a Career as a Hero's Journey
Activities
6.1: Mid-point Personal Assessment and Reflection
6.2: Making a Plan
Chapter 7: Selecting a Major
Understanding Majors and Degree Requirements
Two Types of Majors: Career-Oriented and Multipotential
Your College Major and Your Career: Is There a Connection?
Will Your Major Affect Your Earnings?
Students Have a Variety of Life Goals
Two Key Actions in Choosing a Major
Make a Balanced Decision: Listen to Your Heart and Use Your Head
Activities
7.1: College Majors: True or False?
7.2: Looking at Majors: Preliminary Research
7.3: Do an Informational Interview on a College Major
Chapter 8: Conducting a Job Search
Deciding on a Work Setting
Job Leads: More Is Better
Networking: The Key to the Hidden Job Market
Using College Services and Internship Programs
Mining for Gold on the Internet
Trying Other Sources: Direct Contact with Employers, Ads, Job Fairs, Agencies
Always Remember: Active Methods Are Best
Before You Launch Your Own Business: Get Information and Experience
Activities
8.1: Do an Informational Interview on Starting a Business
8.2: Choosing Career, Education, and Job Search Links
Chapter 9: Presenting Yourself: Resumes, Cover Letters, and References
Building an All-Important Tool: Your Resume
Writing an Effective Cover Letter
Compiling a Solid Reference List
How to Deal with Online Resumes
Taking Advantage of the Possibilities in Other Media
Activity
9.1: Analyze Your Job and Life Accomplishments Skills
9.2: Checklists for a Winning Resume: What to Include and How
Chapter 10: Presenting Yourself: Interviewing
Key Steps as You Prepare for Your Interview
Get Ready for What They'll Ask: Anticipating Standard Interview Questions
The Interview: Creating the Best Possible Impression
Following up on a Positive Note
In Salary Negotiations, Rely on the Three R's
Nontraditional Interviewing: Mastering Other Kinds of Presentations
Dealing with Circumstances out of Your Control
When Your Best Isn't Enough: Coping with Rejection
Activities
10.1: Creating Profiles of Companies, Government Agencies, and Nonprofits
10.2: Composing a Professional Pitch
10.3: Use the S-A-R Format to Explore One of Your Valuable Qualities
10.4: A Checklist for Mock Interview Practice Feedback
Part III: Making Your Experience Count: Practical Advice for Reaching Your Career Goals
Chapter 11: How to Advance Your Career before You Graduate: Learning from Internships, Jobs, and Extracurricular Activities
Seek a Variety of Experiences beyond Your Course Work, Especially Internships
Three Sources of Career-Building Lessons: Taking Challenging Assignments, Observing Key People, Dealing with Mistakes
Challenging Assignments Expand Your Comfort Zone
Learn by Observing Others
Mistakes and Hardship: It's How You Respond That Counts
Use the Power of Reflection and Feedback to Increase the Value of Your Experience
Celebrate Your Success
Activities
11.1: Understanding and Learning from Your Boss's Style
11.2: Reflecting on Your Experience
Chapter 12: How to Set and Reach Your Goals
Beginning the Process of Setting Your Goals
Five Goal-Setting Principles: Get SMART
Successful Goal-Setters Develop a Learning Mind-set
How to Stay Committed and Motivated
Create a Career Development Plan
Mid-Range Goals: If What You Want Is Five Years Away
Long-Range Goals: Giving Your Life Meaning and Direction
Activity
12.1: Make a Career Development Plan
Chapter 13: How to Develop a Strong Career Network
The Importance of Career Networks
Seven Ways Your Career Network Works for You
Overcoming a Resistance to Networking
Build Your Career Networking Skills
Social Networking Sites Can Help You Build a Career Network
Join a Professional Association Related to Your Career Field
Activities
13.1: Create Your Career Network Chart
13.2: Do an Informational Interview with a Successful Person
Chapter 14: Reflections
Feeling Confident about Your Career
Activity
14.1 Summary Essay: Your Personal Assessment and Reflections
Endnotes
Index
This title is also sold in the various packages listed below. Before purchasing one of these packages, speak with your professor about which one will help you be successful in your course.