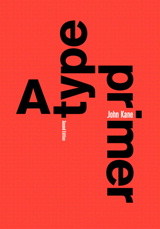 Description
For beginning and intermediate typography courses.

A practical and hands-on approach.

Designed for beginning design and typography students, this text assists students in understanding and demonstrating the basic principles of typography. Focused on intent and content, not affect or style, it makes informed distinctions between what is appropriate and what is merely show. Filled with examples, exercises, and background information–and designed itself to reflect good typographic design–it guides students systematically to the point where they can, not only understand but, demonstrate basic principles of typography, and thereby strengthen their own typographic instincts.
Visit the book's companion website! www.atypeprimer.com
Table of Contents
Basics.


Development.


Letters.


Words and Phrases.


Text.


Simple Organization.


Grid Systems.


Appendix A: Macintosh Keyboard Layouts.


Appendix B: Typeface Survey.


Selected Bibliography.
Purchase Info ?
With CourseSmart eTextbooks and eResources, you save up to 60% off the price of new print textbooks, and can switch between studying online or offline to suit your needs.
Once you have purchased your eTextbooks and added them to your CourseSmart bookshelf, you can access them anytime, anywhere.
Buy Access
Type Primer, A, CourseSmart eTextbook, 2nd Edition
Format: Safari Book
$33.99 | ISBN-13: 978-0-205-06645-2