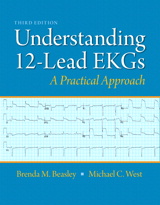 Description
Appropriate for Paramedic courses and courses in EKG Interpretation
The value of over 30 years of combined EMS educational experience enables Brenda M. Beasley and Michael West to bring a unique and insightful approach to the topic of 12-lead EKGs and their interpretation. The authors have presented a complex yet vitally important subject in a comprehensive, straightforward, and easy-to-understand format.
UNDERSTANDING 12-LEAD EKGS, 3/e serves a wide audience of health-care providers, including prehospital providers, nurses, physician assistants, respiratory therapists, and anyone requiring a thorough understanding of electrocardiography. I believe that this book fills a void in the subject matter of EKG interpretation. It demonstrates the ability to educate medical personnel who are new to the subject matter while providing a review to those who are more experienced.
Using a reader-friendly writing style, the authors create a text that begins with the basics of EKG interpretation and then introduces a building-block approach to a more detailed discussion of this topic. Many illustrations, tables, and graphs are used to help highlight the important issues of each topic. Also, the reader will find the review questions at the end of each chapter useful in helping to solidify knowledge of salient issues.
Table of Contents
CHAPTER 1 The Anatomy of the Heart (Structure)
CHAPTER 2 Cardiovascular Physiology (Function)
CHAPTER 3 Basic Electrophysiology
CHAPTER 4 The Electrical Conduction System
CHAPTER 5 The Electrocardiogram
CHAPTER 6 Interpretation of EKG Strips
CHAPTER 7 Acute Myocardial Infarction
CHAPTER 8 Myocardial Ischemia, Injury, and Necrosis
CHAPTER 9 Interpretation of Inferior Myocardial Infarctions (MI)
CHAPTER 10 Interpretation of Anterior MIs
CHAPTER 11 Interpretation of Septal MIs
CHAPTER 12 Interpretation of Lateral MIs
CHAPTER 13 Interpretation of Posterior MIs
CHAPTER 14 Axis Deviation and Bundle Branch Blocks
CHAPTER 15 Therapeutic Modalities
CHAPTER 16 Cardiovascular Pharmacology
CHAPTER 17 More Review Questions
CHAPTER 18 12-Lead EKG Review Strips
APPENDIX 1 Answers to Review Questions
APPENDIX 2 Answers to Review Strips
This title is also sold in the various packages listed below. Before purchasing one of these packages, speak with your professor about which one will help you be successful in your course.
Package ISBN-13: 9780133910926
Includes this title packaged with:
Understanding EKGs: A Practical Approach, CourseSmart eTextbook, 3rd Edition
Brenda M. Beasley
Essentials of A&P for Emergency Care -- Pearson eText
Bryan E. Bledsoe, Bruce J. Colbert, Jeff E. Ankney
Paramedic Care: Principles & Practice, Volumes 1-7 -- Pearson eText, 4th Edition
Bryan E. Bledsoe, Robert S. Porter, Richard A. Cherry
$269.78 | Add to Cart
Purchase Info ?
With CourseSmart eTextbooks and eResources, you save up to 60% off the price of new print textbooks, and can switch between studying online or offline to suit your needs.
Once you have purchased your eTextbooks and added them to your CourseSmart bookshelf, you can access them anytime, anywhere.
Buy Access
Understanding 12-Lead EKGs, CourseSmart eTextbook, 3rd Edition
Format: Safari Book
$37.99 | ISBN-13: 978-0-13-293353-7