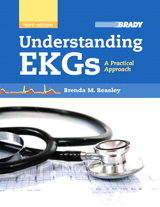 Description
The Third Edition of Beasley's Understanding EKGs: A Practical Approach retains the popular 5-step approach to EKG interpretation and straightforward presentation of cardiovascular anatomy and physiology. It is a perfect for the courses in EMS, nursing, cardiovascular emergencies, and monitor tech training. This new edition contains more than 300 review questions as well as review strips at the end of each chapter to allow for learning reinforcement. New to this edition are Key Points to Remember and a Heart Rate Calculator, which together emphasize and expand upon core material in the text. Assuming no prior EKG knowledge, this Third Edition remains an ideal resource for EKG interpretation in it simplest and most understandable context.
Table of Contents
Foreword
Preface
CHAPTER 1: The Anatomy of Heart: Structure
CHAPTER 2: Cardiovascular Physiology: Function
CHAPTER 3: Basic Electrophysiology
CHAPTER 4: The Electrical Conduction System
CHAPTER 5: The Electrocardiogram
CHAPTER 6: Interpretation of an EKG Strip
CHAPTER 7: Introducing the Sinus Rhythms
CHAPTER 8: Introducing the Atrial Rhythms
CHAPTER 9: Introducing the Junctional Rhythms
CHAPTER 10: Introducing the Ventricular Rhythms
CHAPTER 11: Introducing the Heart Block Rhythms
CHAPTER 12: Introducing the Pacemaker Rhythms
CHAPTER 13: Assessment and Treatment of the Patient with Cardiac Emergencies
CHAPTER 14: More Review Questions
CHAPTER 15: Review EKG Strips
Appendix I: Answers to Review Questions: Chapters 1-14
Appendix 2: Answers to Review Strips
This title is also sold in the various packages listed below. Before purchasing one of these packages, speak with your professor about which one will help you be successful in your course.
Package ISBN-13: 9780133910926
Includes this title packaged with:
Understanding 12-Lead EKGs, CourseSmart eTextbook, 3rd Edition
Brenda M. Beasley, Michael C. West
Essentials of A&P for Emergency Care -- Pearson eText
Bryan E. Bledsoe, Bruce J. Colbert, Jeff E. Ankney
Paramedic Care: Principles & Practice, Volumes 1-7 -- Pearson eText, 4th Edition
Bryan E. Bledsoe, Robert S. Porter, Richard A. Cherry
$269.78 | Add to Cart
Purchase Info ?
With CourseSmart eTextbooks and eResources, you save up to 60% off the price of new print textbooks, and can switch between studying online or offline to suit your needs.
Once you have purchased your eTextbooks and added them to your CourseSmart bookshelf, you can access them anytime, anywhere.
Buy Access
Understanding EKGs: A Practical Approach, CourseSmart eTextbook, 3rd Edition
Format: Safari Book
$30.99 | ISBN-13: 978-0-13-507927-0