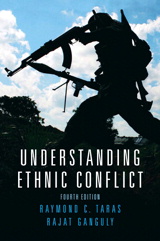 Description
Understanding Ethnic Conflict provides all the key concepts needed to understand conflict among ethnic groups.
Including approaches from both comparative politics and international relations, this text offers a model of ethnic conflict's internationalization by showing how domestic and international actors influence a country's ethnic and sectarian divisions. Illustrating this model in five original case studies, the unique combination of theory and application in Understanding Ethnic Conflict facilitates more critical analysis of contemporary ethnic conflicts and the world's response to them.
Table of Contents
PART I. ETHNIC CONFLICT AND INTERNATIONAL POLITICS: A CONCEPTUAL FRAMEWORK
Chapter 1. Ethnic Conflict on the World Stage
Chapter 2. Ethnic Conflict and International Norms
Chapter 3. Ethnic Conflict and International Security
Chapter 4. Resolving Ethnic Conflicts Through International Intervention
PART II. CASE STUDIES
Chapter 5. Nationalism and the Collapse of Empire: The Russian-Chechen Conflict
Chapter 6. Separatist Movements in Constitutional Democracies: Canada and Quebec Nationalism
Chapter 7. Protracted Ethnic Wars: The Tamil-Sinhalese Conflict in Sri Lanka
Chapter 8. Weak States and Ethnic Conflict: Secessionism and State Collapse in Africa
Chapter 9. Western Military Intervention and Ethnoreligious Conflicts: Iraq, Afghanistan, and Former Yugoslavia
Chapter 10. To Intervene or Not to Intervene?
Purchase Info ?
With CourseSmart eTextbooks and eResources, you save up to 60% off the price of new print textbooks, and can switch between studying online or offline to suit your needs.
Once you have purchased your eTextbooks and added them to your CourseSmart bookshelf, you can access them anytime, anywhere.
Buy Access
Understanding Ethnic Conflict, CourseSmart eTextbook, 4th Edition
Format: Safari Book
$43.99 | ISBN-13: 978-0-205-74233-2