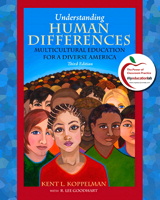 Description
Grounded in interdisciplinary research from the social sciences including education, sociology, biology, history, etc., this text successfully teaches both education and non-education majors about diversity in America.
Understanding Human Differences is the best single text for introducing students to the study of diversity in Twenty-First Century America and provides a clear conceptual framework for teaching about diversity. Implemented successfully in more than 100 general education and teacher education programs across the United States, Koppelman's text is often kept by students as a permanent reference after using it – at both the Undergraduate and Graduate levels.
Through an inquiry format, the author encourages students to discuss and debate topics, thereby promoting a deeper understanding of the issues addressed within each chapter. The author looks at all of the "isms" of U.S. society (sexism, classism, racism, etc.) through three overlapping lenses: the individual, institutions, and culture. Its strong historical perspective and balance of theory and application not only prepares pre-service teachers to be more accepting and successful working with diverse students in their classrooms, but also prepares students in other fields to be more sensitive to the issues affecting the diverse individuals they will meet and work with throughout their lives.
Table of Contents
Preface
Section I: Individual Attitudes and Interpersonal Relations
1. Understanding Ourselves and Others: Clarifying Values and Language
2. Understanding Prejudice and Its Causes
3. Communication, Conflict, and Conflict Resolution
Section II: Cultural Foundations of Oppression in the United States
4. Immigrants and Oppressions: The Assault on Cultural and Language Diversity
5. Race and Oppression: The Experiences of People of Color in America
6. Religion and Oppression: The Struggle for Religious Freedom
7. rejecting Oppressive Relationships: The Logic of Cultural Pluralism for a Diverse Society
Section III: Contemporary Dilemmas for Intergroup Relations
8. Racism: Confronting a Legacy of White Domination of America
9. Sexism: Where the Personal Becomes Political
10. Heterosexism: Transforming Homosexuality from Deviant to Different
11. Classism: Misperceptions and Myths about Income, Wealth, and Poverty
12. Ableism: Disability Does Not Mean Inability
Section IV: The Challenge of Diversity to American Institutions
13. Pluralism in Schools: The Promise of Multicultural Education
14. Pluralism in Society: Creating Unity in a Diverse America
Index