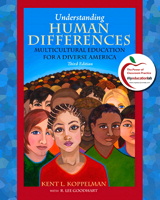 Components of the Package:
Understanding Human Differences: Multicultural Education for a Diverse America, 3rd Edition
By Kent L. Koppelman, R. Lee Goodhart
MyLab Education -- Valuepack Access Card
By . . Pearson Education
Description
For Multicultural Education/Diversity as well as General Education courses Understanding Human Differences is the best single text for introducing students to the study of diversity in Twenty-First Century America and provides a clear conceptual framework for teaching about diversity.The author uses clear examples, lucid language, and engaging activities to involve students in thinking through fundamental ideas that ground their understanding of diversity.

The author investigates three converging elements in his examination of human differences: individual attitudes and behaviors, cultural expectations, and institutional policies and practices. This examination provides the basis for the conceptual organization of the text.
013138130X / 9780131381308 Understanding Human Differences: Multicultural Education for a Diverse America (with MyEducationLab)
Package consists of:
0135140870 / 9780135140871 MyEducationLab -- Access Card
0136103014 / 9780136103011 Understanding Human Differences: Multicultural Education for a Diverse America
Table of Contents
Preface

Section I: Individual Attitudes and Interpersonal Relations
1. Understanding Ourselves and Others: Clarifying Values and Language
2. Understanding Prejudice and Its Causes
3. Communication, Conflict, and Conflict Resolution

Section II: Cultural Foundations of Oppression in the United States
4. Immigrants and Oppressions: The Assault on Cultural and Language Diversity
5. Race and Oppression: The Experiences of People of Color in America
6. Religion and Oppression: The Struggle for Religious Freedom
7. rejecting Oppressive Relationships: The Logic of Cultural Pluralism for a Diverse Society

Section III: Contemporary Dilemmas for Intergroup Relations
8. Racism: Confronting a Legacy of White Domination of America
9. Sexism: Where the Personal Becomes Political
10. Heterosexism: Transforming Homosexuality from Deviant to Different
11. Classism: Misperceptions and Myths about Income, Wealth, and Poverty
12. Ableism: Disability Does Not Mean Inability

Section IV: The Challenge of Diversity to American Institutions
13. Pluralism in Schools: The Promise of Multicultural Education
14. Pluralism in Society: Creating Unity in a Diverse America

Index