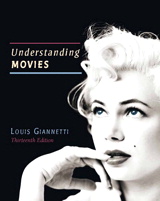 Description
A readable, accessible introduction to film
Understanding Movies provides valuable insight into how movies communicate and convey meaning to their audiences through a unique network of language systems and techniques. In a readable, accessible, and sometimes humorous manner, Understanding Movies engages students in the fascinating language of film and helps further their appreciation and understanding of why and how movie watchers respond as they do to different films.
Organized around elements of film, the thirteenth edition of this market leading text provides students with a new way of looking at films that are familiar to them through contemporary coverage and a visually engaging presentation.
Learning Goals
Upon completing this book, readers will be able to:
Understand film as an industry
Discuss the impact of technology on the film industry
Table of Contents
In this Section:
1) Brief Table of Contents
2) Full Table of Contents
1) Brief Table of Contents
Chapter 1: Photography
Chapter 2: Mise en Scene
Chapter 3: Movement
Chapter 4: Editing
Chapter 5: Sound
Chapter 6: Acting
Chapter 7: Dramatization
Chapter 8: Story
Chapter 9: Writing
Chapter 10: Ideology
Chapter 11: Critique
Chapter 12: Synthesis

---
2) Full Table of Contents
Chapter 1: Photography
Realism and Formalism
The Shots
The Angles
Light and Dark
Color
Lenses, Filters, and Stocks
The Digital Revolution
The Cinematographer
Further Reading
Chapter 2: Mise en Scene
The Frame
Composition and Design
Territorial Space
Proxemic Patterns
Open and Closed Forms
Further Reading
Chapter 3: Movement
Kinetics
The Moving Camera
Mechanical Distortions of Movement
Further Reading
Chapter 4: Editing
Continuity
D. W. Griffith and Classical Cutting
Soviet Montage and the Formalist Tradition
André Bazin and the Tradition of Realism
Further Reading
Chapter 5: Sound
Historical Background
Sound Effects
Music
Musicals
Spoken Language
Further Reading
Chapter 6: Acting
Stage and Screen Acting
The American Star System
Styles of Acting
Casting
Further Reading
Chapter 7: Dramatization
Time, Space, and Language
The Director
Settings and Décor
Costumes and Makeup
Further Reading
Chapter 8: Story
Narratology
The Spectator
The Classical Paradigm
Realistic Narratives
Formalistic Narratives
Nonfictional Narratives
Genre and Myth
Further Reading
Chapter 9: Writing
The Screenwriter
The Screenplay
North by Northwest: the Screenplay
Figurative Comparisons
Point of View
Literary Adaptations
Further Reading
Chapter 10: Ideology
The Left-Center-Right Model
Culture, Religion, and Ethnicity
Feminism
Queer Cinema
Tone
Further Reading
Chapter 11: Critique
Theories of Realism
Formalist Film Theories
The Auteur Theory
Eclectic and Synthesizing Approaches
Structuralism and Semiology
Historiography
Further Reading
Chapter 12: Synthesis
Photography
Mise En Scène
Movement
Editing
Sound
Acting
Dramatization
Story
Writing
Ideology
Critique
Further Reading

This title is also sold in the various packages listed below. Before purchasing one of these packages, speak with your professor about which one will help you be successful in your course.
Package ISBN-13: 9780133754599
Includes this title packaged with:
Filmmakers on Film (CD), 9th Edition
Louis Giannetti
$124.00 | Add to Cart
Purchase Info
Digital Choices
MyLab & Mastering ?
MyLab & Mastering products deliver customizable content and highly personalized study paths, responsive learning tools, and real-time evaluation and diagnostics. MyLab & Mastering products help move students toward the moment that matters most—the moment of true understanding and learning.
eTextbook ?
With CourseSmart eTextbooks and eResources, you save up to 60% off the price of new print textbooks, and can switch between studying online or offline to suit your needs.
Once you have purchased your eTextbooks and added them to your CourseSmart bookshelf, you can access them anytime, anywhere.