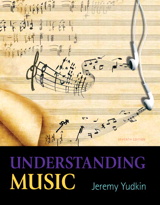 Description
Active Listening with More Depth, More Focus, and More Knowledge
Understanding Music teaches students what to listen for in music, while offering instructors and students an economical option for their music appreciation course. Jeremy Yudkin's text is a rich music appreciation program that supports the instructor's ultimate goal of having students listen actively to the music.
The new seventh edition has been revised from beginning to end, making the text more focused, more accessible, and more engaging, with new and improved features. Additionally, the new MySearchLab with eText, an online program that includes an interactive etext, assessment, and help with research and writing, can now be packaged with the book.
A better teaching and learning experience
This program will provide a better teaching and learning experience– for you and your students. Here's how:
Personalize Learning – The new MySearchLab with eText delivers proven results in helping students succeed, provides engaging experiences that personalize learning, and comes from a trusted partner with educational expertise and a deep commitment to helping students and instructors achieve their goals.

Improve Active Listening — The author brings the music to the foreground for the student with features like "Quick Listen," helping students listen to and understand the music.

Engage Students – This book is designed in every way to keep students engaged. In addition to the "Listening Guides" and focus features on artists and events, the new "Performance in Context" feature spotlights significant performance spaces or musical venues.

Support Instructors – With an updated Instructor's Manual, MyTest, PowerPoints, and MySearchLab assessments, instructors have all the resources they need to teach this course effectively.
Note:
MySearchLab with eText does not come automatically packaged with this text. To purchase MySearchLab with eText, please visit
www.mysearchlab.com
or you can purchase a ValuePack of the text + MySearchLab with eText. ValuePack ISBN-10: 020590985X / ValuePack ISBN-13: 9780205909858
Table of Contents
In this Section:
1. Brief Table of Contents
2. Full Table of Contents
---
1. BRIEF TABLE OF CONTENTS
Chapter 1 Music Around the World
Chapter 2 The Elements of Music
Chapter 3 The Art of Listening
Chapter 4 The Middle Ages: 400-1400
Chapter 5 Renaissance: 1400-1600
Chapter 6 The Baroque Era: 1600-1750
Chapter 7 The Classic Era: 1750-1800
Chapter 8 Beethoven
Chapter 9 The Nineteenth Century I: Early Romantic Music
Chapter 10 The Nineteenth Century II: Mid- to Late-Romanticism Music
Chapter 11 The Twentieth Century and Beyond, Part I: The Classical Scene
Chapter 12 The Twentieth Century and Beyond, Part II: Jazz, an American Original
Chapter 13 The Twentieth Century and Beyond, Part III: Popular Music in the United
States
---
2. FULL TABLE OF CONTENTS
Chapter 1 Music Around the World
Introduction to the Study of Music
Music as a Reflection of Society
Listening to Music from Around the World
Conclusion
Chapter 2 The Elements of Music
What is Music?
The Elements of Music
Musical Form
Making Music: Voices
Making Music: Instruments
The Orchestra
Musical Performance
Emotion in Music
Live Performances
Historical Periods and Individual Style
Chapter 3 The Art of Listening
Sound, Rhythm, and Dynamics
Words, "Blue Notes," Rhythm, Swing, Improvisation
Form, Tempo, Meter, Keys, and Cadences
Keys and Cadences
Chapter 4 The Middle Ages: 400-1400
General Characteristics of Medieval Music
The Music of the Middle Ages
The End of the Middle Ages
Chapter 5 Renaissance: 1400-1600
Life and Times in the Renaissance
Renaissance Music
General Characteristics of Renaissance Music
Music in the Early Renaissance
The Mid-Renaissance
The Late Renaissance
The Counter-Reformation and the Music of Palestrina
Chapter 6 The Baroque Era: 1600-1750
Life in the Baroque Era
General Characteristics of Baroque Music
The Early Baroque (1600-1700)
The Late Baroque (1700-1750)
Chapter 7 The Classic Era: 1750-1800
From Absolutism to Enlightenment to Revolution
General Characteristics of Classic Music
The Classic Meters
Chapter 8 Beethoven
Beethoven's Life
Beethoven's Music
Chapter 9 The Nineteenth Century I: Early Romantic Music
The Age of Romanticism
Early Romanticism
Chapter 10 The Nineteenth Century II: Mid- to Late-Romanticism Music
Late Romanticism
Chapter 11 The Twentieth Century and Beyond, Part I: The Classical Scene
General Characteristics of Twentieth-Century Music
Impressionism and Symbolism
Primitivism
Expressionism
Other Composers Active Before World War II: Bartok, Shostakovich, Britten, Ives, and Copland
Building Bridges
After the War: Modernism, the Second Stage
Postmodernism
Inclusion
Conclusion
Chapter 12 The Twentieth Century and Beyond, Part II: Jazz, an American Original
The History of Jazz
Chapter 13 The Twentieth Century and Beyond, Part III: Popular Music in the United States
Styles of Popular Music Beginnings: 1850-1950
The Fortunate Fifties
The Turbulent Sixties
The 1970s and 1980s: Variety, Legacy, and Change
The Nineties and Beyond
Purchase Info
ISBN-10: 0-205-44101-7
ISBN-13: 978-0-205-44101-3
Format: Alternate Binding