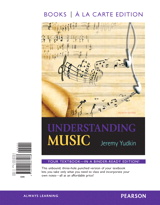 Description
Active Listening with More Depth, More Focus, and More Knowledge
Understanding Music teaches students what to listen for in music, while offering instructors and students an economical option for their music appreciation course. Jeremy Yudkin's text is a rich music appreciation program that supports the instructor's ultimate goal of having students listen actively to the music.
The new seventh edition has been revised from beginning to end, making the text more focused, more accessible, and more engaging, with new and improved features. Additionally, the new MySearchLab with eText, an online program that includes an interactive etext, assessment, and help with research and writing, can now be packaged with the book.
A better teaching and learning experience
This program will provide a better teaching and learning experience— for you and your students. Here's how:
Personalize Learning — The new MySearchLab with eText delivers proven results in helping students succeed, provides engaging experiences that personalize learning, and comes from a trusted partner with educational expertise and a deep commitment to helping students and instructors achieve their goals.

Improve Active Listening - The author brings the music to the foreground for the student with features like "Quick Listen," helping students listen to and understand the music.

Engage Students — This book is designed in every way to keep students engaged. In addition to the "Listening Guides" and focus features on artists and events, the new "Performance in Context" feature spotlights significant performance spaces or musical venues.

Support Instructors — With an updated Instructor's Manual, MyTest, PowerPoints, and MySearchLab assessments, instructors have all the resources they need to teach this course effectively.
Note: MySearchLab with eText does not come automatically packaged with this text. To purchase MySearchLab with eText, please visit www.mysearchlab.com or you can purchase the a la carte version of the text + MySearchLab with eText. ISBN-10: 020588718X / ISBN-13: 9780205887187
This Books a la Carte Edition is an unbound, three-holed punched, loose-leaf version of the textbook and provides students the opportunity to personalize their book by incorporating their own notes and taking only the portion of the book they need to class — all at a fraction of the bound book price.