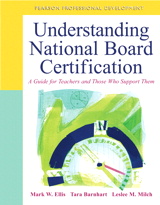 Description
A thorough, accessible examination of the National Board standards and certification process, this guide is invaluable to all educators pursuing Board certification and those supporting such candidates.
With this resource as a guide, educators will deepen their understanding of the National Board standards, become fully prepared to be successful National Board candidates, and enhance their growth as educational professionals. Here readers get a thorough and accessible examination of the standards and the certification process, with extensive references to relevant research.
Whether candidates are working on their own or in a candidate support group, they can turn to this guide for complete coverage of all aspects of National Board certification for First Time candidates, Take One! Candidates, Retake (or Advanced) candidates, and National Board Certified Teachers (NBCTs) working on Renewal. The Preface includes suggested pathways for each type of candidate—useful information to guide readers to the most relevant sections of the book— specific suggestions for setting up and participating productively in candidate support groups, plus several figures and templates for organizing planning and reflection as candidates work on portfolio entries.
Table of Contents
Foreword
Preface
1. Introduction to National Board Certification
2. Studying the Standards
3. Getting Started
4. Thinking, Dialoguing and Writing about Teaching
5. Looking for Evidence
6. Wrapping Up the Portfolio
7. The Assessment Center
8. Planning for Score Release
9. You've Earned National Board Certification: Now What?
References
Annotated Resources by Chapter
Appendix: Providing Candidate Support
The Role of the Support Provider
Tools for Talking about Teaching
Building and Maintaining a Safe and Productive Environment
Common Candidate Challenges
Guide for Using this Book with Candidates
In Closing