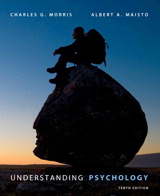 Description
Focuses on Enduring Issues in Psychology
Understanding Psychology, 10/e, presents a scientific, current overview of the fundamental concepts of psychology. The authors highlight enduring issues that unite all subfields of psychology: Person-Situation, Nature-Nurture, Stability-Change, Diversity-Universality, and Mind-Body. These enduring issues help readers learn the surprising unity and coherence of the diverse and exciting science of psychology.
MyPsychLab is an integral part of the Morris/Maisto program. Engaging activities and assessments provide a teaching and learning system that helps students apply psychological concepts to everyday life. With MyPsychLab, students can watch videos on psychological research and applications, participate in virtual classic experiments, and develop critical thinking skills through writing.
This title is available in a variety of formats - digital and print. Pearson offers its titles on the devices students love through Pearson's MyLab products, CourseSmart, Amazon, and more.
NOTE: This is the standalone book, if you want the book/access card order the ISBN below:
0205986382 / 9780205986385 Understanding Psychology with DSM-5 Update Plus NEW MyPsychLab with Pearson eText -- Access Card Package 10/e
Package consists of:
0205206514 / 9780205206513 NEW MyPsychLab with Pearson eText -- Valuepack Access Card
0205986188 / 9780205986187 Understanding Psychology with DSM-5 Update
Table of Contents
In this Section:
1. Brief Table of Contents
2. Full Table of Contents
---
1. BRIEF TABLE OF CONTENTS
Chapter 1 The Science of Psychology
Chapter 2 The Biological Basis of Behavior
Chapter 3 Sensation and Perception
Chapter 4 States of Consciousness
Chapter 5 Learning
Chapter 6 Memory
Chapter 7 Cognition and Mental Abilities
Chapter 8 Motivation and Emotion
Chapter 9 Life-Span Development
Chapter 10 Personality
Chapter 11 Stress and Health Psychology
Chapter 12 Psychological Disorders
Chapter 13 Therapies
Chapter 14 Social Psychology
Appendix A Measurement and Statistical Methods
Appendix B Psychology Applied to Work


---
2. FULL TABLE OF CONTENTS
Chapter 1: The Science of Psychology
What is Psychology?
The Growth of Psychology
Human Diversity
Research Methods in Psychology
Ethics and Psychology
Research on Humans and Animals
Careers in Psychology
Chapter 2: The Biological Basis of Behavior
Neurons: The Messengers
The Central Nervous System
The Peripheral Nervous System
The Endocrine System
Genes, Evolution, and Behavior
Chapter 3: Sensation and Perception
The Nature of Sensation
Vision
Hearing
The Other Senses
Perception
Chapter 4: States of Consciousness
Sleep
Dreams
Drug-altered Consciousness
Meditation and Hypnosis
Chapter 5: Learning
Classical Conditioning
Operant Conditioning
Factors Shared by Classical and Operant Conditioning
Cognitive Learning
Chapter 6: Memory
The Sensory Registers
Short Term Memory
Long Term Memory
The Biology of Memory
Forgetting
Special Topics in Memory
Chapter 7: Cognition and Mental Abilities
Building Blocks of Thought
Language, Thought, and Culture
Nonhuman Thought and Language
Problem Solving
Decision Making
Multitasking
Intelligence and Mental Abilities
Heredity, Environment, and Intelligence
Creativity
Answers to Problems in the Chapter
Answers to Intelligence Test Questions
Chapter 8: Motivation and Emotion
Perspectives on Motivation
Hunger and Thirst
Sex
Other Important Motives
Emotions
Communicating Emotion
Chapter 9: Life-Span Development
Methods in Development
Prenatal Development
The Newborn
Infancy and Childhood
Adolescence
Adulthood
Late Adulthood
Chapter 10: Personality
Studying Personality
Psychodynamic Theories
Humanistic Personality Theories
Trait Theories
Cognitive-Social Learning Theories
Personality Assessment
Chapter 11: Stress and Health Psychology
Sources of Stress
Coping with Stress
How Stress Affects Health
Staying Healthy
Extreme Stress
The Well-Adjusted Person
Chapter 12: Psychological Disorders
Perspectives on Psychological Disorders
Mood Disorders
Anxiety Disorders
Psychosomatic and Somatoform Disorders
Dissociative Disorders
Sexual and Gender-Identity Disorders
Personality Disorders
Schizophrenic Disorders
Childhood Disorders
Gender and Cultural Differences in Psychological Disorders
Chapter 13: Therapies
Insight Therapies
Behavior Therapies
Cognitive Therapies
Group Therapies
Effectiveness of Psychotherapy
Biological Treatments
Institutionalization and Its Alternatives
Client Diversity and Treatment
Chapter 14: Social Psychology
Social Cognition
Attitudes
Social Influence
Social Action
Appendix A: Measurement and Statistical Methods
Scales of Measurement
Measurements of Central Tendency
The Normal Curve
Measures of Correlation
Using Statistics to Make Predictions
Using Meta-Analysis in Psychological Research

Appendix B: Psychology Applied to Work
Matching People to Jobs
Measuring Performance on the Job
Issues of Fairness in Employment
Behavior within Organizations
Organizational Culture
Organizational Attitudes


Enhance your learning experience with text-specific study materials.
This title is also sold in the various packages listed below. Before purchasing one of these packages, speak with your professor about which one will help you be successful in your course.
Package ISBN-13: 9780133840810
Includes this title packaged with:
Study Guide for Understanding Psychology, 10th Edition
Charles G. Morris, Albert A. Maisto
NEW MyPsychLab with Pearson eText -- Valuepack Access Card
. . Pearson Education
$174.40 | Add to Cart
Purchase Info
ISBN-10: 0-205-98618-8
ISBN-13: 978-0-205-98618-7
Format: Alternate Binding
Digital Choices ?
MyLab & Mastering with Pearson eText is a complete digital substitute for a print value pack at a lower price.
MyLab & Mastering ?
MyLab & Mastering products deliver customizable content and highly personalized study paths, responsive learning tools, and real-time evaluation and diagnostics. MyLab & Mastering products help move students toward the moment that matters most—the moment of true understanding and learning.
eTextbook ?
With CourseSmart eTextbooks and eResources, you save up to 60% off the price of new print textbooks, and can switch between studying online or offline to suit your needs.
Once you have purchased your eTextbooks and added them to your CourseSmart bookshelf, you can access them anytime, anywhere.
Print Choices
Alternative Options ?
Click on the titles below to learn more about these options.
Loose Leaf Version ?
Books a la Carte are less-expensive, loose-leaf versions of the same textbook.