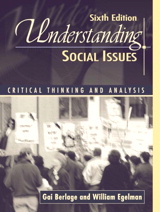 Table of Contents


Preface.


Introduction.


1. Where Will You Be Living in Five Years?


2. Who's Bringing Up the Children?


3. Are Teenage Out-of-Wedlock Births a Social Problem?


4. Are Gender Roles Still Sex-Typed?


5. Is America a Drug Culture?


6. Two-Fisted Jane: Myth or Reality?


7. Does it Pay to Go to College?


8. Are We Still a Nation of Immigrants?


9. Does Equality Exist in America?


10. Can You Afford to Get Sick?


11. AIDS: The Modern Plague?


12. Are We Destroying Our Environment?


13. Are All Marriages Doomed to Fail?


14. Why Worry About the Rest of the World?

Additional Course Materials