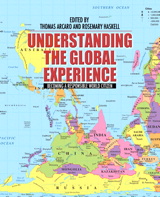 Description
An anthology of Global Studies essays
Understanding the Global Experience is meant to enlighten students about several topics of interest in the world today; to give them insights into the different methodologies which will help them to analyze and interpret those topics; and to show that, through their studies, all of uscan make progress, through the acquisition of information, knowledge and understanding, toward the goal of responsible world citizenship.
The anthology has two main sections: Part I, a "Tools" section; and Part II, a "Topics" section. Essays in Part I offer ways of analyzing, interpreting, researching, reading and writing within the varied field that constitutes "global" studies. Essays in Part II examine selected topics from that same large interdisciplinary realm. Each "topics" essay is written from an identifiable disciplinary perspective —such as sociology, anthropology, history, philosophy, literature, political science, etc.
Questions, and suggestions for other activities, appear at the end of each chapter, along with a short list of suggested readings. Some of these questions and activities help to expose the conflicts and points of contention embedded in the preceding chapter, and encourage the reader to explore such complexities in more detail.
Table of Contents
PART ONE: Approaches to Studying the World Today
1. Introduction Beyond the Pledge of Allegiance: Becoming a Responsible World Citizen by Tom Arcaro
2. The Joy of Culture: A Beginner's Guide to Understanding and Appreciating Cultural Diversity by Larry Basirico and Anne Bolin
3. Reading, Writing, and Researching the Global Experience by Jean Schwind
4. Numbers and the World by Duane McClearn.
5. Literature and the Global Studies Student by Rosemary Haskell
PART TWO: Topics in Global Studies
6. Global Media and News: A Guide to Decoding and Analyzing Information by Ocek Eke
7.Environmentalism Gone Wild: The Great Green Mobilization and Beyond by Anthony Weston
8. Western Imperialism and its Legacies by Brian Digre
9. Looking at the World Through a Gendered Lens: Feminism and Global Studies by Ann Cahill
10. Use and Abuse: Drug Use and Drug Commerce in a Global Context by Mat Gendle
11. Navigating Religion in the Global Context by Jeffrey Pugh
12. Global Politics and Global Issues: Where do You Fit? by Laura Roselle, Kerstin Sorensen and Robert Anderson
13. `Jihad vs. McWorld' Revisited by Steve Braye