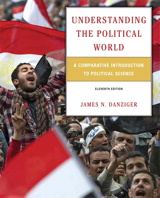 Description
Understanding the Political World offers a comparative perspective on how politics works at the global, national, group, and individual level.
Focusing on how fundamental concepts in political science relate to real political events, this bestselling text surveys political behavior, systems, and processes throughout the world and asks students to evaluate and apply this knowledge. Through an engaging writing style, numerous examples, and the instructive use of visuals, Understanding the Political World encourages students to think like political scientists and to critically examine new and enduring political realities and challenges.
MyPoliSciLab does not come automatically packaged with this text. To purchase MyPoliSciLab, please visit: www.mypoliscilab.com.
Table of Contents
PART I. ON KNOWING THE POLITICAL WORLD
Chapter 1. Politics and Knowledge
PART II. POLITICAL BEHAVIOR
Chapter 2. Political Theory and Political Beliefs
Chapter 3. Political Actions
Chapter 4. Influences on Beliefs and Actions
PART III. POLITICAL SYSTEMS
Chapter 5. States and Nations
Chapter 6. Political Institutions I: Structures
Chapter 7. Political Institutions II: Institutional Arrangements
Chapter 8. Political Economy
PART IV. POLITICAL PROCESSES
Chapter 9. Public Policy, Power, and Decision
Chapter 10. Change and Political Development
Chapter 11. Politics Across Borders
Chapter 12. Political Violence
PART V. POLITICS AMONG STATES
Chapter 13. The Developed Countries
Chapter 14. The Developing Countries
Chapter 15. The Transitional Developed Countries
Appendix. Political Analysis