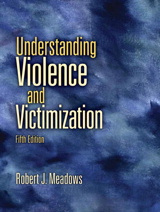 Description
For courses in Victimology, Violence in America, Criminology and Special Topics.
Understanding Violence and Victimization, Fifth Edition
, explores selected types of violence and examines the causes and responses to such victimization. Written for courses in victimology, violence, and criminology, it addresses topics such as domestic violence, stranger violence, workplace violence, school violence, criminal justice violence, and the violence of terrorism. Each chapter includes case studies and discussion questions and explores prevention strategies, victim responses and legal approaches. This edition features a new chapter on understanding violence and provides the latest
Table of Contents
1. Measuring and Understanding Violence
2. Victimization Theories
3. Victims of Intimate Violence
4. Stranger Violence and Victimization
5. Workplace Violence and Victimization
6. School Violence and Victimization
7. Criminal Justice Injustice
8. The Violence of Terrorism
9. Responding to Criminal Victimization
APPENDIX A: MAJOR SOURCES OF VICTIMIZATION DATA AND INFORMATION
APPENDIX B: RESOURCE GUIDE
Purchase Info ?
With CourseSmart eTextbooks and eResources, you save up to 60% off the price of new print textbooks, and can switch between studying online or offline to suit your needs.
Once you have purchased your eTextbooks and added them to your CourseSmart bookshelf, you can access them anytime, anywhere.
Buy Access
Understanding Violence and Victimization, CourseSmart eTextbook, 5th Edition
Format: Safari Book
$35.80 | ISBN-13: 978-0-13-607141-9