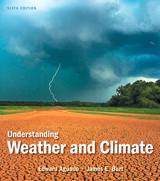 Description
Rising interest in climate change and severe weather phenomena are making meteorology courses more popular than ever–yet this fast-paced, one-semester curriculum is packed with complex physical concepts that can be challenging. In Aguado/Burt's Understanding Weather & Climate, a first-rate textbook and inspired technology tutorials combine to engage students in learning about atmospheric behavior. The authors use everyday occurrences to illustrate meteorology and climatology. Dynamic illustrations from the book come to life in the new fully integrated MyMeteorologyLab website, where students have access to a variety of media and self study resources such animated tutorials, videos, and satellite loops of atmospheric phenomena. While staying true to the text's rigorous and quantitative approach, the Sixth Edition incorporates the latest new science and issues, new technology and media to help both teach and visualize the toughest topics, with a more learner-centered architecture and design.
Table of Contents
I. ENERGY AND MASS
1. Composition and Structure of the Atmosphere
2. Solar Radiation and the Seasons
3. Energy Balance and Temperature
4. Atmospheric Pressure and Wind

II. WATER IN THE ATMOSPHERE
5. Atmospheric Moisture
6. Cloud Development and Forms
7. Precipitation Processes

III. DISTRIBUTION AND MOVEMENT OF AIR
8. Atmospheric Circulation and Pressure Distributions
9. Air Masses and Fronts

IV. DISTURBANCES
10. Mid-Latitude Cyclones
11. Lightning, Thunder, and Tornadoes
12. Tropical Storms and Hurricanes

V. HUMAN ACTIVITIES AND SPECIAL TOPICS
13. Weather Forecasting and Analysis
14. Human Effects: Air Pollution and Heat Islands

VI. CURRENT, PAST AND FUTURE CLIMATES
15. Earth's Climates
16. Climate Changes: Past and Future

VII. SPECIAL TOPICS AND APPENDICES
17. Atmospheric Optics

Appendix A: Unit of Measurement and Conversions
Appendix B: The Standard Atmosphere
Appendix C: Weather Map Symbols
Appendix D: Weather Extremes


Enhance your learning experience with text-specific study materials.