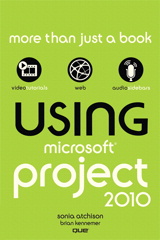 Description
More than just a book!
Get comfortable with simple techniques that you can use to bring order to project management chaos. Don't just read about it: see it and hear it, with step-by-step video tutorials and valuable audio sidebars. Way more than just a book, this is all the help you'll ever need… where you want, when you want!
Learn Fast, Learn Easy!
Using web, video, and audio
Show Me video walks through tasks you've just got to see – including bonus advanced techniques

Tell Me More audio delivers practical insights straight from the experts

Let Me Try It tasks break down the complex into easy-to-follow, step-by-step sequences
Table of Contents
Table of Contents
Introduction 1
How This Book Is Organized 2
Using This Book 2
Special Features 3
About the UsingWeb Edition 3
1 Introduction to Managing Projects with Microsoft Project 2010 4
What Microsoft Project 2010 Can Do for You 4
What Version of Project 2010 Do You Need? 6
Laying a Foundation 6
Project 7
Task 7
Resource 7
Assignment 7
What's New in Project 2010? 7
Updated User Interface 7
Manually Scheduled Tasks 9
Team Planner View 9
Timeline 10
New Table Customization 11
SharePoint Collaboration 12
2 Navigating Project 2010 14
Using the Ribbon 14
Using the Timeline 15
Share the Timeline with Others 16
Understanding Project Views 16
What Views Are Available in Project 2010? 16
Working with Project Views 36
Grouping Data in a View 36
Sorting Data in a View 38
Filtering Data in a View 40
Highlighting Data in a View 41
Displaying Two Views at Once 43
3 Starting a Project 45
Setting Up a Project 45
Creating a New Project 45
Saving a Project 47
Setting Project Properties and Options 49
Setting Project Properties 49
Setting Project Options 50
Choosing a Project Start or Finish Date 51
Setting Up Your Project's Calendars 52
Modifying an Existing Base Calendar 53
Changing a Working Day to a Nonworking Day 54
Changing a Nonworking Day to a Working Day 55
Changing Default Working Times 56
Changing Working Times for a Specific Time Period 57
Creating a New Base Calendar 57
Setting Up Your Project's Calendar 59
How Does Project 2010 Schedule Tasks? 60
Scheduling Methods in Project 2010 60
What Factors Does the Project Scheduling Engine Consider? 61
Which Scheduling Method Should I Use? 62
4 Working with Tasks 65
Understanding Task Types 65
Fixed Units 66
Fixed Work 66
Fixed Duration 67
Adding Tasks to Your Project 67
Adding a New Task 67
Setting a Task Calendar 70
Indenting and Outdenting Tasks 71
Setting Up Task Dependencies 72
Adding Dependencies Between Tasks 74
Creating a Work Breakdown Structure (WBS) 76
Setting Your Project's WBS Code Structure 78
5 Working with Resources 82
Understanding Resource Types and Other Factors 82
Adding Resources to Your Project 84
Adjusting Resource Calendars 86
Assigning Resources to Tasks 87
Assigning a Resource Using the Task Information Dialog Box 87
Assigning a Work Resource Using the Team Planner View 89
Editing an Existing Resource Assignment 89
Splitting a Task to Create a Gap in Work 90
Fine-Tuning a Resource's Work Schedule for a Task 91
Assigning Remaining Work on a Task to Another Resource 92
6 Accounting for Project Costs 94
Understanding Types of Costs 94
Creating a Budget for Your Project 95
Creating and Assigning Budget Resources 95
Adding Values to Budget Resources 98
Pairing Resources with Budgets 98
Comparing Actual Cost and Work Values with the Project Budget 100
Accounting for Overtime Spent on Project Tasks 102
Planning for Overtime Work and Costs 102
Recording Actual Overtime Work and Costs 103
7 Capturing Project Progress 106
Baselining Your Project 106
Gathering Status Updates from Resources 108
Actual Start, Percent Work Complete, Remaining Work 109
Actual Work Per Day, Remaining Work, Expected Finish Date 116
Assessing the Impacts of Updates 119
8 Sharing Your Project with Others 121
Reporting on Your Project 121
Generating and Customizing a Visual Report 123
Generating and Customizing a Basic Report 126
Sharing Data with Others 131
Copying the Timeline 132
Exporting Data to Excel 132
Taking a Picture of Your Project Data 133
Saving the Project As a PDF or XPS File 134
Collaborating with Others on Your Project 135
9 Customizing Project 2010 137
Creating Custom Fields 137
Adding and Removing Columns in a View 140
Adding a Column to a View 141
Hiding a Column in a View 142
Saving a Set of Columns as a Table 143
Creating and Editing Views 145
10 Understanding Project Options 149
General Project Options 150
User Interface Options 150
Project View 151
Personalize Your Copy of Microsoft Office 153
Display Options 153
Calendar 154
Currency Options for This Project 154
Show Indicators and Options Buttons For 156
Show These Elements 156
Schedule Options 156
Calendar Options for This Project 157
Schedule 159
Scheduling Options for This Project 160
Schedule Alerts Options 162
Calculation 163
Calculation Options for This Project 163
Proofing Options 165
AutoCorrect Options 165
When Correcting Spelling in Microsoft Office Programs 166
When Correcting Spelling in Project 166
Save Options 167
Save Projects 167
Save Templates 168
Cache 168
Language Options 169
Advanced Options 169
General 170
Project Web App 172
Planning Wizard 172
General Options for This Project 172
Edit 174
Display 174
Display Options for This Project 177
Cross Project Linking Options for This Project 179
Earned Value Options for This Project 180
Calculation Options for This Project 180
Customize Ribbon Options 182
Customize the Ribbon 182
Quick Access Toolbar Options 184
Customize the Quick Access Toolbar 186
Add-Ins Options 186
Trust Center Options 187
11 Dealing with Problems 189
Problem: One of My Resources Is Overallocated 189
Problem: My Schedule Goes Longer Than My Deadline 193
Problem: My Costs Are Exceeding My Budget 195
Assigning Work to Fewer People 197
Cutting Back on What Needs to Get Done 197
Trimming Budget Amounts 197
Index 198
Purchase Info
ISBN-10: 0-13-265367-2
ISBN-13: 978-0-13-265367-1
Format: eBook (Watermarked)
This title is out of stock.