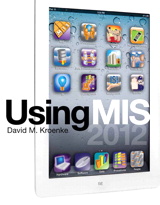 Description
For undergraduate Introductory Management Information Systems courses.
An engaging introduction to how people use IS to solve business problems.
Using MIS explains why MIS is the most important course in the business school by showing students how businesses use information systems and technology to accomplish their goals, objectives, and competitive strategy.
Table of Contents
PART 1 Why MIS?
Chapter 1 The Importance of MIS
Chapter 2 Collaboration Information Systems
Chapter 3 Strategy and Information Systems
PART 2 Information Technology
Chapter 4 Hardware and Software
Chapter 5 Database Processing
Chapter 6 Data Communication and the Cloud
PART 3 Using IS for Competitive Advantage
Chapter 7 Structured Processes and Information Systems
Chapter 8 Social Media Information Systems
Chapter 9 Business Intelligence Systems
PART 4 Information Systems Management
Chapter 10 Business Process and Information Systems Development
Chapter 11 Information Systems Management
Chapter 12 Information Security Management
The International Dimension
Application Exercises
Glossary
Index
Purchase Info ?
With CourseSmart eTextbooks and eResources, you save up to 60% off the price of new print textbooks, and can switch between studying online or offline to suit your needs.
Once you have purchased your eTextbooks and added them to your CourseSmart bookshelf, you can access them anytime, anywhere.
Buy Access
Using MIS, CourseSmart eTextbook, 5th Edition
Format: Safari Book
$83.99 | ISBN-13: 978-0-13-266265-9