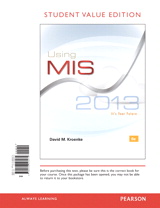 Description
Directed primarily toward undergraduate CIS/MIS college/university majors, this text also provides practical content to current and aspiring industry professionals.

Using MIS shows how businesses use information systems and technology to accomplish their goals, objectives, and competitive strategy. With a new edition now publishing each year, Using MIS, 6e, contains fresh, new, and current material to help keep your students up to date.
Note: this is the standalone book, if you want the book/access card order the ISBN below:
0133131149 / 9780133131147 Using MIS Plus MyMISLab with Pearson eText -- Access Card Package
Package consists of:
0133029670 / 9780133029673 Using MIS
0133049132 / 9780133049138 myMISlab with Pearson eText -- Access Card -- for Using MIS
Table of Contents
I. WHY MIS?
1. The Importance of MIS
2. Collaboration Information Systems
3. Strategy and Information Systems
II. INFORMATION TECHNOLOGY
4. Hardware, Software, and Mobile Systems
5. Database Processing
6. Data Communication and the Cloud
III. USING IS FOR COMPETITIVE ADVANTAGE
7. Processes, Organizations, and Information Systems
8. Social Media Information Systems
9. Business Intelligence Systems
IV. INFORMATION SYSTEMS MANAGEMENT
10. Development Processes
11. Information Systems Management
12. Information Security Management
The International Dimension
Application Exercises
Glossary
Index