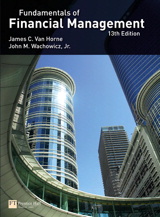 Description
A practical introduction to understanding the Financial Management of companies in today's rapidly changing business world.
This book is particularly well-suited to introductory courses in financial management, for a professional qualification and as a reference for practitioners.
Table of Contents
PART ONE: INTRODUCTION TO FINANCIAL MANAGEMENT
1. The Role of Financial Management
2. The Business, Tax and Financial Environments
PART TWO: VALUATION
3. The Time Value of Money
4. The Valuation of Long-Term Securities
5. Risk and Return
Appendix A: Measuring Portfolio Risk
Appendix B: Arbitrage Pricing Theory
PART THREE: TOOLS OF FINANCIAL ANALYSIS AND PLANNING
6. Financial Statement Analysis
Appendix: Deferred Taxes and Financial Analysis
7. Funds Analysis, Cash-Flow Analysis, and Financial Planning
Appendix: Sustainable Growth Modeling
PART FOUR: WORKING CAPITAL MANAGEMENT
8. Overview of Working Capital Management
9. Cash and Marketable Securities Management
10. Accounts Receivable and Inventory Management
11. Short-Term Financing
PART FIVE: INVESTMENT IN CAPITAL ASSETS
12. Capital Budgeting and Estimating Cash Flows
13. Capital Budgeting Techniques
Appendix A: Multiple Internal Rates of Return
Appendix B: Replacement Chain Analysis
14. Risk and Managerial Options in Capital Budgeting
PART SIX: THE COST OF CAPITAL, CAPITAL STRUCTURE, AND DIVIDEND POLICY
15. Required Returns and the Cost of Capital
Appendix A: Adjusting the Beta for Financial Leverage
Appendix B: Adjusted Present Value
16. Operating and Financial Leverage
17. Capital Structure Determination
18. Dividend Policy
PART SEVEN: INTERMEDIATE AND LONG-TERM FINANCING
19. The Capital Market
20. Long-Term Debt, Preferred Stock, and Common Stock
Appendix: Refunding A Bond Issue
21. Term Loans and Leases
Appendix: Accounting Treatment of Leases
PART EIGHT: SPECIAL AREAS OF FINANCIAL MANAGEMENT
22. Convertibles, Exchangeables, and Warrants
Appendix: Option Pricing
23. Mergers and Other Forms of Corporate Restructuring
Appendix: Remedies for a Failing Company
24. International Financial Management
These online resources are available at no cost.
Wachowicz: Fundamentals of Financial Management Companion Website, 13th Edition
Purchase Info
ISBN-10: 0-273-71363-9
ISBN-13: 978-0-273-71363-0
Format: Book
$146.00
We're temporarily out of stock, but order now and we'll send it to you later.
Back Order
Digital Choices ?
MyLab & Mastering with Pearson eText is a complete digital substitute for a print value pack at a lower price.
eTextbook ?
With CourseSmart eTextbooks and eResources, you save up to 60% off the price of new print textbooks, and can switch between studying online or offline to suit your needs.
Once you have purchased your eTextbooks and added them to your CourseSmart bookshelf, you can access them anytime, anywhere.