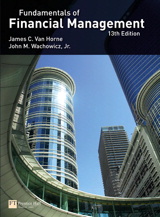 Description
A practical introduction to understanding the Financial Management of companies in today's rapidly changing business world.
This book is particularly well-suited to introductory courses in financial management, for a professional qualification and as a reference for practitioners.
Table of Contents
PART ONE: INTRODUCTION TO FINANCIAL MANAGEMENT
1. The Role of Financial Management
2. The Business, Tax and Financial Environments
PART TWO: VALUATION
3. The Time Value of Money
4. The Valuation of Long-Term Securities
5. Risk and Return
Appendix A: Measuring Portfolio Risk
Appendix B: Arbitrage Pricing Theory
PART THREE: TOOLS OF FINANCIAL ANALYSIS AND PLANNING
6. Financial Statement Analysis
Appendix: Deferred Taxes and Financial Analysis
7. Funds Analysis, Cash-Flow Analysis, and Financial Planning
Appendix: Sustainable Growth Modeling
PART FOUR: WORKING CAPITAL MANAGEMENT
8. Overview of Working Capital Management
9. Cash and Marketable Securities Management
10. Accounts Receivable and Inventory Management
11. Short-Term Financing
PART FIVE: INVESTMENT IN CAPITAL ASSETS
12. Capital Budgeting and Estimating Cash Flows
13. Capital Budgeting Techniques
Appendix A: Multiple Internal Rates of Return
Appendix B: Replacement Chain Analysis
14. Risk and Managerial Options in Capital Budgeting
PART SIX: THE COST OF CAPITAL, CAPITAL STRUCTURE, AND DIVIDEND POLICY
15. Required Returns and the Cost of Capital
Appendix A: Adjusting the Beta for Financial Leverage
Appendix B: Adjusted Present Value
16. Operating and Financial Leverage
17. Capital Structure Determination
18. Dividend Policy
PART SEVEN: INTERMEDIATE AND LONG-TERM FINANCING
19. The Capital Market
20. Long-Term Debt, Preferred Stock, and Common Stock
Appendix: Refunding A Bond Issue
21. Term Loans and Leases
Appendix: Accounting Treatment of Leases
PART EIGHT: SPECIAL AREAS OF FINANCIAL MANAGEMENT
22. Convertibles, Exchangeables, and Warrants
Appendix: Option Pricing
23. Mergers and Other Forms of Corporate Restructuring
Appendix: Remedies for a Failing Company
24. International Financial Management
These online resources are available at no cost.
Wachowicz: Fundamentals of Financial Management Companion Website, 13th Edition