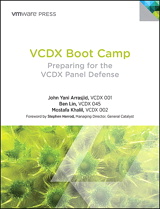 Description
Prepare to succeed at your VCDX panel defense and gain world-class knowledge for designing complex VMware environments
VMware Certified Design Expert (VCDX) is the highest level of VMware certification, achieved by dedicated professionals who have demonstrated exceptional skill in VMware enterprise deployments. To earn a VCDX, professionals must create a complete enterprise VMware design and undergo an arduous defense at the hands of some of the world's most sophisticated VMware experts.
Now, for the first time, there's a comprehensive guide to VCDX defense: VCDX Boot Camp. Based on the legendary standing-room-only boot camps led by VCDX co-creator John Arrasjid, this guide captures the unsurpassed personal experience of three pioneering VCDX certification holders, program developers, and defense panelists.
John Arrasjid, Ben Lin, and Mostafa Khalil cover everything you need to know to prepare for certification. They demystify the entire VCDX defense process, clearly explain its format and prerequisites, and offer indispensable tips for maximizing your likelihood of success. Detailed chapters on both design and troubleshooting offer four complete scenarios explaining exactly what VCDX panelists will expect from your defense.
Learn how to think like a VCDX, discovering powerful insights and best practices for designing your own world-class virtualized environment.
Coverage includes
• Authoritative preparation guidance (including expert insights into scheduling your preparation and defense)
• Tips for conducting mock defenses, boot camps, and study sessions with your colleagues
• How to select, create, and document a superior, defensible design
• How to make design choices and incorporate design patterns that support the VCDX blueprint
• How to confidently defend your skills in architecture, designing new solutions, and troubleshooting design or implementation flaws
• Proven tips for responding to tough questions from panelists
• Detailed example defenses of designs incorporating VCDX-DCV, VCDX-Cloud, and VCDX-DT
vmwarepress.com
vmware.com/go/vcdx
Table of Contents
Foreword xiii
Introduction xvii
About the Authors xxi
About the Reviewers xxiii
Acknowledgments xxv
Chapter 1 Certifi cation Overview 1
VMware Certifi cation Program Framework 3
Certifi cation Tracks 5
VCDX for Datacenter Virtualization (VCDX-DCV) 7
VCDX for Desktop (VCDX-DT) 7
VCDX for Cloud (VCDX-Cloud) 8
The VCDX Process 9
Value Proposition 10
Review 11
Chapter 2 Preparation 13
Experience 14
What Demonstrates Design Expertise? 14
What Demonstrates a Lack of Design Experience? 15
The Application 16
Application Submission Process 17
VCDX Application 18
Creating a VCDX Study Group 21
Practice and Supporting Materials 21
VCDX Panelist Restrictions 21
Running a VCDX Panel Defense Boot Camp 22
Practice 22
Room Layout 23
Running the Defense Within a Set Timeline 24
Mock Defense Checklist 25
Review 25
Chapter 3 The Design 27
Assembling Your Design 28
VCDX Design Defense Blueprint 28
Method 32
Traceability 33
Resolving Confl icts 34
Sizes Matters Not 35
Design Artifacts 36
What Makes for a Good Design? 36
Conceptual Model 36
Logical Design 38
Physical Design 39
Justifi cation 39
Impact 39
Localization 39
Checklist: Design Selection and Content 40
Summary 40
Chapter 4 Defense Overview 43
The Interview Process 43
Before the Defense 44
Time Management 44
Panel Defense Participants 45
Environment 46
Panelists' Perspective 46
Sitting in the Panelist Seat 46
Panelist Qualifi cations 47
Panelist Preparation 47
Panelist Expectations 47
Notifi cation of Results 47
Chapter 5 Design Defense 49
Design Overview Presentation 50
Example Presentation Slides 51
Reference Material 53
Know Your Design 54
Defense Strategy 54
Practice Leads to Success 55
Preparation Checklists 56
Review 58
Chapter 6 The Design Scenario 59
Showcase Your Skills 59
Panelist's Perspective 61
Design Scenario Examples 62
Design Scenario 1 62
Design Scenario 2 66
Design Scenario 3 70
The Art of Explanations 73
Design Scenario 4 77
Review 78
Chapter 7 The Troubleshooting Scenario 81
Conducting the Troubleshooting Scenario 81
Thinking Aloud 82
Asking Questions 82
Using a Whiteboard or Paper 82
Troubleshooting Analysis 82
Example: Confl icting Information 83
Requirements Analysis 83
The Panelist Perspective 83
Example Scenarios 83
Example Troubleshooting Scenario #1 84
Example Troubleshooting Scenario #2 89
Example Troubleshooting Scenario #3 93
Example Troubleshooting Scenario #4 98
Review 102
Conclusion 103
References 105
Books and Links 105
Training Courses 106
Glossary 107
TOC, 9780321910592, 4/18/2013
Purchase Info
ISBN-10: 0-13-337806-3
ISBN-13: 978-0-13-337806-1
Format: eBook (Watermarked)?
This eBook includes the following formats, accessible from your Account page after purchase:
EPUBThe open industry format known for its reflowable content and usability on supported mobile devices.
MOBIThe eBook format compatible with the Amazon Kindle and Amazon Kindle applications.
PDFThe popular standard, used most often with the free Adobe® Reader® software.
This eBook requires no passwords or activation to read. We customize your eBook by discreetly watermarking it with your name, making it uniquely yours.
Includes EPUB, MOBI, and PDF
$31.99
Add to Cart