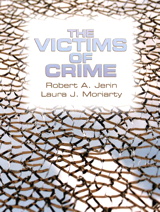 Description
For courses in Victimology, Crime Victimization, Criminology and Introduction to Criminal Justice.
The Victims of Crime provides indispensable information on all aspects of crime victimization, victims' rights, and victims' services. Organized in an easy-to-follow, four-part format, it provides a look at important events in the field, up-to-date statistical victimization data, and a theoretical understanding of how and why individuals become victims of crime. Taking a systems approach, it devotes extensive coverage to the crime victim's interaction with the criminal justice system and includes an entire chapter on economic victimizations.
Table of Contents
SECTION I: VICTIMOLOGY
1. Victims of Crime: An Overview
2. Crime Victimization: Statistics, Theories, and Victimology
3. Crime Prevention
SECTION II: CRIME VICTIMS AND THE CRIMINAL JUSTICE SYSTEM
4. Crime Victims and Law Enforcement
5. Crime Victims and the Courts
6. Crime Victims, Corrections, and Restorative Justice
SECTION III: INTERPERSONAL VICTIMIZATION
7. Sexual Victimization
8. Intimate Partner Violence
9. Children as Victims
10. Victimization of the Elderly
SECTION IV: STRANGER VICTIMIZATION
11. Economic Victimizations
12. Hate Crimes and Special Populations
13. Mass Violence
14. International Victimization, Assistance and the Future of the Victims of Crime
Purchase Info ?
With CourseSmart eTextbooks and eResources, you save up to 60% off the price of new print textbooks, and can switch between studying online or offline to suit your needs.
Once you have purchased your eTextbooks and added them to your CourseSmart bookshelf, you can access them anytime, anywhere.
Buy Access
Victims of Crime, The, CourseSmart eTextbook
Format: Safari Book
$43.99 | ISBN-13: 978-0-13-502838-4