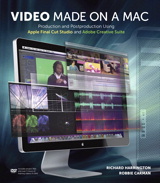 Description
On a Mac, the sky's the limit for creating professional video. With all the tools available though, it can be a daunting task to decide which ones offer the best solutions for combined efficiency and high-level results. How can you effectively communicate your vision to clients and crew? How should you calibrate your camera for multi-camera and green screen shoots? Is it better to do your keying in After Effects, Motion, or Final Cut? How should you set up your edit suite for efficiency and accuracy? How do you manage large amounts of media and a multitude of formats for multiple software applications? In Video Made on a Mac, you'll learn the answers and much more. Chock-full of practical advice and step-by-step instructions, each chapter provides insight on the critical components of production and postproduction that can make all the difference when you're up against a tight budget and schedule. The accompanying DVD supplies you with project files and high-definition footage so you can follow along with the examples, as well as 50 training videos. Whether you're an advanced Mac user or just beginning to incorporate Adobe Creative Suite into your Final Cut Studio workflow, you'll learn to apply best-practice techniques to all your video projects.



Table of Contents
Introduction
CHAPTER 1: Creative Design
CHAPTER 2: Production Planning
CHAPTER 3: On-set Monitoring
CHAPTER 4: Working Tapeless
CHAPTER 5: Greenscreen Solutions
CHAPTER 6: Multicamera Productions
CHAPTER 7: Edit Suite Configuration
CHAPTER 8: Organizing Projects and Media
CHAPTER 9: Working with Photos
CHAPTER 10: Text and Titling
CHAPTER 11: Motion Graphics Pipeline
CHAPTER 12: Audio Solutions
CHAPTER 13: Online Editing and Color Grading
CHAPTER 14: Review and Approval
CHAPTER 15: Digital Delivery
CHAPTER 16: Backup and Archiving
Appendix
Index


Purchase Info
ISBN-10: 0-321-67101-5
ISBN-13: 978-0-321-67101-1
Format: Safari PTG
This publication is not currently for sale.