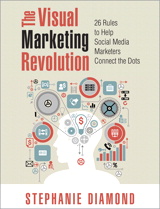 Description
Get Straight to Your Customer's Mind, Heart, Buy Button…Visually!
Skip past the filters: jump straight into your customer's powerful visual instinct, where 83% of all human learning is processed. Craft messages that can be brilliantly expressed visually. Then, brilliantly express them. Learn the modern and timeless arts of visual persuasion from a master: Stephanie Diamond. Design irresistible visual persona. Tell masterful visual stories. Create breakthrough images, infographics, and video. Use all the visual social tools at your disposal, from Instagram to Pinterest to YouTube. Words can't express what you need to say. Visuals will. Get this book: see how.
Think visually to solve marketing challenges text can't handle

Utilize visual maps to craft sharper messages and strategies

Guide prospects on a visual journey they simply must follow

Make abstract ideas intensely real and tangible

Visually boost the effectiveness of emails, landing pages, and case studies

Leverage new presentation tools that go way beyond PowerPoint

Clear away obstacles to action with infographics, checklists, and worksheets

Add visuals to deepen engagement on Facebook, Twitter, Pinterest, and Google+

Create outstanding low-cost video for marketing and tutorials

Optimize your visuals for tablets and smartphones

Quickly improve social media performance with intuitive new visual tools
Table of Contents
INTRODUCTION 1
Part I: Rules for Social Media Marketers
1 RECOGNIZE THE POWER OF VISUAL PERSUASION 7
What You Need to Know 7
The Power of Visuals and Text 10
Evaluate Your Online Ability to Persuade 10
A Visual Marketing Method 13
Relationship Building 15
Scarcity 15
Banner with Story and Graphics 15
Green Attitude 16
Word of Mouth for More Social Proof 16
Liking, Belonging, and Listening to Feedback 16
Reciprocity 16
Toe in the Water 16
Social Proof 17
WIIFM 17
Authority 17
Tools to Consider 17
Ideas to Use 17
Idea Map 18
Endnotes 18
2 CREATE PERSONAS TO UNDERSTAND YOUR CUSTOMERS 19
What You Need to Know 20
Understand Your Niche 20
Speak the Language of Your Buyers 23
Use Personas to Clarify Your Target Market 24
Overcoming Obstacles 25
A Visual Marketing Method 25
Ideas to Use 29
Idea Map 30
Endnotes 30
3 SOCIAL MEDIA IS STORYTELLING, SO TELL STORIES 31
What You Need to Know 31
The Bigger Picture 32
Customers Get Swept Up 33
Why Are Business Stories Difficult to Get Right? 34
The Story Structure 35
A Visual Marketing Method 37
Capturing Existing Stories 37
Tools to Consider 39
Ideas to Use 39
Idea Map 40
Endnotes 40
4 UNDERSTAND HOW YOUR CONTENT SUPPORTS YOUR BUSINESS 41
What You Need to Know 41
How Content Fits In 42
The Power of Great Content 43
Snackable Visual Content 44
Make a Commitment 44
A Visual Marketing Method 46
Ideas to Use 49
Idea Map 49
Endnotes 49
5 TAKE BUYERS ON A JOURNEY 51
What You Need to Know 51
How We Buy Online 52
Problem 53
Personas 54
Options 55
Details 55
Buy 57
Satisfaction 57
A Visual Marketing Method 58
Ideas to Use 59
Idea Map 60
6 CONNECT USING COLLABORATION'S MANY FORMS 61
What You Need to Know 61
Forms of Collaboration 62
In-House Collaboration (Employee to Employee) 63
Co-Creation (Employee to Customers) 63
Crowdsourcing (Company to Experts) 65
Crowd Funding (Experts to Customers) 66
Ideas to Use 67
Idea Map 68
Endnotes 68
7 KNOW YOUR CONTENT 69
What You Need to Know 69
Topic Inventory 71
A Visual Marketing Method 72
Ideas to Use 74
Idea Map 75
Endnotes 75
Part II: Tools to Help You Create Your Visual Marketing
8 WHAT YOU NEED TO KNOW 79
Why Mind Maps Intimidate Some People 80
Principles of Good Mind Maps 81
Using Mind Maps for Online Marketing 82
Mind Maps Are Useful for Work Groups 83
A Visual Marketing Method 84
Tools to Consider 86
Ideas to Use 87
Idea Map 88
Endnotes 88
9 MAKE IDEAS TANGIBLE 89
What You Need to Know 89
Create Artifacts 91
Benefits of Tangible Ideas 92
Making Your Ideas Visible 92
Physical Tools That Make Ideas Visible 93
A Visual Marketing Method 97
Tools to Consider 99
Ideas to Use 100
Idea Map 100
Endnotes 100
10 USE DIAGRAMS AND OTHER DATA VISUALIZATION TOOLS TO EXPLAIN MARKETING IDEAS 103
What You Need to Know 103
Benefits of Diagrams 105
Types of Diagrams to Consider 106
Tools to Consider 110
Ideas to Use 111
Idea Map 111
Endnotes 112
11 USE VISUAL GUIDES THAT BUILD ON KNOWLEDGE 113
What You Need to Know 113
Types of Templates 114
Structures for Business Writing 117
Design Templates 117
Checklists as Guides 118
Make Checklists Valuable 120
Tools to Consider 120
Ideas to Use 121
Idea Map 121
Endnotes 121
12 USE VISUAL PRESENTATIONS TO CONNECT WITH AN AUDIENCE 123
What You Need to Know 123
Smarter and Better 124
Understanding the Lizard Brain 125
Look at Examples 126
Tools to Consider 127
A Visual Marketing Method 129
Ideas to Use 132
Idea Map 133
Endnotes 133
Part III: Content to Get Customer Attention
13 EMAIL IS STILL A POWERFUL VISUAL MARKETING TOOL 137
What You Need to Know 137
Using QR Codes 139
Finding Images 141
Tools to Consider 143
A Visual Marketing Method 143
Ideas to Use 147
Idea Map 148
Endnotes 148
14 SPREAD YOUR MESSAGE WITH INFOGRAPHICS 149
What You Need to Know 149
Why We Love Infographics 150
Look at Examples 153
Tools to Consider 154
A Visual Marketing Method 155
Process You Can Try 155
Ideas to Use 158
Idea Map 159
Endnotes 159
15 DEVELOP CASE STUDIES AND REPORTS WITH VISUALS 161
What You Need to Know 161
Resources for Examples of CSR 162
Finding Your CSR Online 163
A Visual Marketing Method 165
Ideas to Use 171
Idea Map 172
Endnotes 172
16 DIGITAL PUBLISHING AND EBOOKS ARE HERE NOW—USE THEM 173
What You Need to Know 173
A Visual Marketing Method 174
Purpose/Revenue 175
Content 178
Document Conversion and Distribution 179
Added-Value 181
Promotion 182
Importance of Book Cover and Visuals 183
Ideas to Use 185
Idea Map 186
Endnotes 186
17 ROCK YOUR VISUAL BRAND ON SOCIAL MEDIA 187
What You Need to Know 187
Analyzing Your Brand 190
Visual Expectations 195
A Visual Marketing Method 198
Ideas to Use 198
Idea Map 198
Endnotes 199
18 LANDING PAGES WON'T PERFORM WELL WITHOUT VISUALS 201
What You Need to Know 201
About Landing Pages 202
Rules of Persuasion 203
Mechanisms of a Landing Page 204
Components 205
Where Are Buyers in the Journey? 205
Effective Handshake 206
Email Marketing 206
A Visual Marketing Method 207
Basecamp Software 207
WorkFlowy 209
SEOmoz 211
Tools to Consider 213
Ideas to Use 214
Idea Map 214
Endnote 214
PART IV: Tactics for Social Media Platforms
19 VISUALS ARE A MUST ON FACEBOOK 217
What You Need to Know 217
A More Visual Facebook 220
A Visual Marketing Method 222
Ideas to Use 228
Idea Map 229
Endnotes 229
20 USE TWITTER TO LINK TO VISUALS 231
What You Need to Know 231
A More Visual Twitter 233
Tools to Consider 237
A Visual Marketing Method 239
Ideas to Use 242
Idea Map 242
Endnotes 243
21 INSTAGRAM IS GREAT FOR QUICK VISUALS FROM YOUR MOBILE 245
What You Need to Know 245
A Word about Captions 248
Why Instagram Is Great for Social Media 248
What Should You Promote? 251
A Visual Marketing Method 251
Using Instagram Photos as Part of a Business Plan 253
A Healthcare Company Educating People Around the World 254
Ideas to Use 255
Idea Map 256
Endnotes 256
22 USE PINTEREST AS A MARKETING HUB 257
What You Need to Know 257
Pinterest for Business 259
Value to Your Customers When You Use Pinterest 261
What Makes Pinterest Great for Social Media? 262
Tools to Consider 266
A Visual Marketing Method 268
Ideas to Use 271
Idea Map 272
Endnotes 272
23 TUMBLR MAKES IT EASY TO SHARE VISUALS 273
What You Need to Know 273
Getting Started with a Tumblog 274
Blog Types 275
Posting 275
Curation 276
Why Tumblr Is Great for Social Media 278
Tools to Consider 280
A Visual Marketing Method 280
Themes/Branding 284
Promoting Your Tumblog 285
Ideas to Use 285
Idea Map 286
Endnotes 286
24 GOOGLE+ IS MORE VISUAL THAN YOU THINK 287
What You Need to Know 287
Getting Started with Google+ 289
Why Google+ Is Great for Social Media 291
Tools to Consider 292
A Visual Marketing Method 293
Ideas to Use 296
Idea Map 297
Endnotes 297
25 MOBILE APPS PROVIDE VISUAL OPPORTUNITIES 299
What You Need to Know 299
Can Visual Reinvention Work? 301
Tools to Consider 303
More productive 303
Educate and Entertain Your Customers 307
Encourage Staff Collaboration 309
A Visual Marketing Method 310
Capturing Your Handwritten Notes 312
Social Media Sharing 313
Ideas to Use 314
Idea Map 314
Endnotes 315
26 YOUTUBE IS THE PLACE TO VIEW VIDEOS 317
What You Need to Know 317
Getting Started with YouTube 318
Why YouTube Is Great for Social Media 321
Promotion 323
Tools to Consider 325
Screen Recorders 325
Advanced Software 325
Animated Videos 326
A Visual Marketing Method 327
Ideas to Use 328
Idea Map 329
Endnotes 329
INDEX 331
Purchase Info
ISBN-10: 0-13-325970-6
ISBN-13: 978-0-13-325970-4
Format: eBook (Watermarked)?
This eBook includes the following formats, accessible from your Account page after purchase:
EPUBThe open industry format known for its reflowable content and usability on supported mobile devices.
MOBIThe eBook format compatible with the Amazon Kindle and Amazon Kindle applications.
PDFThe popular standard, used most often with the free Adobe® Reader® software.
This eBook requires no passwords or activation to read. We customize your eBook by discreetly watermarking it with your name, making it uniquely yours.
Includes EPUB, MOBI, and PDF
$23.99
Add to Cart