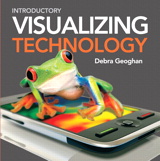 Description
For introductory courses in Computer Concepts or computer literacy often including instruction in Microsoft Office.

Visualizing Technology is the new Computer Concepts book that enables instructors to see Computer Concepts through their students' eyes! This book covers all of the traditional topics taught in a Computer Concepts course but in a non-traditional way that is more appealing to visual and kinesthetic learners.
Table of Contents
Chapter 1 What is a Computer?
Chapter 2 Hardware
Chapter 3 File Management
Chapter 4 Digital Devices and Multimedia
Chapter 5 Application Software
Chapter 6 System Software
Chapter 7 The Internet
Chapter 8 Communicating and Sharing: The Social Web
Chapter 9 Networks and Communication
Appendix 1 Bloggers
Appendix 2 Mindmaps
Appendix 3 Google Doc
Purchase Info ?
With CourseSmart eTextbooks and eResources, you save up to 60% off the price of new print textbooks, and can switch between studying online or offline to suit your needs.
Once you have purchased your eTextbooks and added them to your CourseSmart bookshelf, you can access them anytime, anywhere.
Buy Access
Visualizing Technology, Introductory, CourseSmart eTextbook
Format: Safari Book
$55.99 | ISBN-13: 978-0-13-137627-4