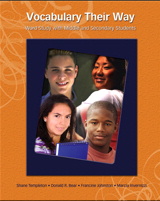 Description
By relying on students' natural inclination to look for patterns, Vocabulary Their Way gives intermediate, middle, and secondary teachers the foundational information and strategies they need to help students develop vocabulary knowledge. The text offers research-tested ideas for helping students use word patterns to puzzle out meaning to content area vocabulary. It also provides much needed assessment information to help teachers gauge where to begin instruction. From the author team behind the phenomenally successful word study text Words Their Way, this text provides hands on opportunities for teachers to keep student attention and interest as they build vocabulary.
Table of Contents
Vocabulary Their Way: Word Study, Grades 4-12
Table of Contents
Part I: Foundations of Learning and Teaching Vocabulary
Chapter 1 — The Nature of Vocabulary Development and Instruction
What the research says
Early intermediate
Middle intermediate
Late Intermediate
Synchrony of development
Chapter 2 — The Meaning and Structure of Words
How Words Work: Meanings and Feelings
How Words Are Written: Spelling Makes Sense!
Chapter 3 — Where Words Come from and Where They're Going
History
Dynamics of construction of new vocabulary
Part II: Instruction and Assessment
Chapter 4 —Essential Vocabulary Strategies and Activities
Guidelines for Teaching Core Academic and Content-Specific Academic Vocabulary
Tools for Teaching
Word Sorts and Concept Sorts
The Dictionary
Technology
Guidelines for Selecting Which Words to Teach Directly
Guidelines for Selecting Core Academic Vocabulary
Guidelines for Selecting Content-Specific Academic Vocabulary
Generative Strategies
Word Formation with Base Words and Affixes
Strategy for Decoding Longer Words
Principles of Teaching Morphology: Base Words and Affixes
Word Sort Activities to Support Word Formation with Base Words and Affixes
Word Formation with Greek/Latin Foots and Affixes
Principles of Teaching Morphology: Greek/Latin Roots and Affixes
Word Sort Activities to Support Word Formation with Greek/Latin Roots and Affixes
Word-Specific Strategies
Concept Sorts
Vocab-O-Grams
Vocabulary Cards
List, Group, and Label
Exploring Antonyms and Synonyms
Analogies
Vocabulary Notebooks
Graphic Organizers
Games
Online Resources about Words
Looking Ahead
Chapter 5-Teaching Core Academic Vocabulary in English/Language Arts
Concrete sorting
Using word study for character analysis
Sorting Adjectives
Concrete ways to understand authors word choice
Word study to teach poetry
Iambic pentameter
Syllable stress
Contrasts of poetry–word choice (alliteration/contrast is major literary technique which lends itself right into word choice)
Chapter 6— Teaching Content-Specific Academic Vocabulary
English
Guidelines for Content Area Vocabulary InstructionHistory
Mathematics
Science
Technical/Vocational
Chapter 7— Vocabulary Instruction with English Language Learners
The Context for Instruction
Wide Reading
Purposeful Writing
Reading to your EL Students
Ongoing Word Study Activities
Determining English Learners' Level of English Proficiency
Word-Specific Challenges for English Learners
Generative Instruction
Compound Words
Driving Words from Common Base Words
Cognates
Chapter 8 - Assessment and Organization
Assessing
Grouping for instruction
Use checklist–qualitative
Early intermediate
Middle intermediate
Late Intermediate
Synchrony of development
Part III: Appendix
Additional Word Sorts
Sample Lessons
Spelling-to-Sound Correspondences
Most productive spelling rules
Syllable Patterns and Rules
Games
Assessments
Content Area Standards and Vocabulary