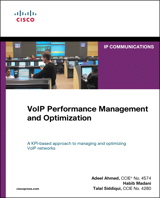 Description
VoIP Performance Management and Optimization
A KPI-based approach to managing and optimizing VoIP networks
IP Communications
Adeel Ahmed, CCIE® No. 4574
Habib Madani
Talal Siddiqui, CCIE No. 4280
VoIP Performance Management and Optimization is the first comprehensive, expert guide to managing, monitoring, troubleshooting, and optimizing large VoIP networks. Three leading Cisco VoIP experts bring together state-of-the-art techniques for ensuring that customer service level agreements (SLA) are consistently met or exceeded.
The authors begin by reviewing how VoIP is deployed in enterprise and service provider networks and the performance tradeoffs and challenges associated with each leading VoIP deployment model. Next, they present a comprehensive approach to diagnosing problems in VoIP networks using key performance indicators (KPI) and proactively addressing issues before they impact service.
In this book, you will find a proven tools-based strategy for gauging VoIP network health and maximizing performance and voice quality. You also will learn how to perform trend analysis and use the results for capacity planning and traffic engineering—thereby optimizing your networks for both the short- and long-term.
The authors all work in the Cisco Advanced Services Group.
Deploy, manage, monitor, and scale multivendor VoIP networks more effectively
Integrate performance data from multiple VoIP network segments and service flows to effectively manage SLAs
Use performance counters, call detail records, and call agent trace logs to gauge network health in real time
Utilize dashboards to analyze and correlate VoIP metrics, analyze trends, and plan capacity
Implement a layered approach to quickly isolate and troubleshoot both localized and systemic problems in VoIP networks
Optimize performance in networks where the service provider owns the "last mile" connection
Improve performance when VoIP is deployed over publicly shared infrastructure
Manage performance in enterprise networks using both centralized and distributed call processing
Plan media deployment for the best possible network performance
Monitor trends, establish baselines, optimize existing resources, and identify emerging problems
Understand and address common voice quality issues
This IP communications book is part of the Cisco Press® Networking Technology Series. IP communications titles from Cisco Press help networking professionals understand voice and IP telephony technologies, plan and design converged networks, and implement network solutions for increased productivity.
Category: Networking: Unified Communications
Covers: Voice over IP Network Management
Table of Contents
Foreword
Introduction
Part I VoIP Networks Today
Chapter 1 Voice over IP (VoIP) and Network Management 1
VoIP Technology 2
VoIP Overview 3
Media Transport Protocol for VoIP—RTP 5
VoIP Signaling Protocols 8
Common Network Problems in VoIP Networks 9
Delay/Latency 9
Propagation Delay 10
Processing Delay 10
Serialization/Queuing Delay 11
Jitter 11
Packet Loss 12
Voice Activity Detection (VAD) 13
Other Issues 13
Common Voice Quality Problems in IP Networks 14
Strategic Importance of VoIP and Management 18
Network Management Methodologies 20
Telecommunications Management Network 20
FCAPS Model 21
Fault Management 21
Configuration Management 21
Accounting Management 22
Performance Management 22
Security Management 22
Information Technology Infrastructure Library (ITIL) 23
Service Strategy 23
Service Design 24
Service Transition 25
Service Operation 26
Continual Service Improvement 27
Enhanced Telecom Operations Map (eTOM) 27
Comprehensive Network Management Methodology 28
Focusing on Performance Metrics 30
Summary 32
Reference 32
Chapter 2 A Metrics-Based Approach for Managing the VoIP Network 33
VoIP Networks Require a Layered Management Approach 34
Tracking Systemic Performance Issues 37
Localized Performance Issues 39
Subjective Performance Issues 39
Downtime and Impact 40
Proactive Monitoring Concept 41
KPIs 43
VoIP-Signaling KPIs 44
VoIP Media KPIs 45
VoIP Network Segments and VoIP Service Flows 46
Voicemail Segment 46
Announcement Segment 47
Voice Termination Point Segment 47
Voice ONNET Call Leg Segment 47
Voice OFFNET or PSTN-Bound Segment 47
PSTN Bearer Traffic Segment 48
Service-Level Agreement (SLA) Management 48
SBC Trunk Uptime 50
PSTN/IMT Trunk Uptime 50
Signaling SS7 Link Uptime 50
Vendor Accountability 51
Tools Utilized 51
Summary 52
Reference 52
Part II VoIP Deployment Models
Chapter 3 VoIP Deployment Models in Service Provider Networks 53
Service Provider Voice Implementation Models 54
Residential Applications: Voice over Broadband 55
Small/Medium Business Applications (Voice over T1/E1/PRI/CAS) 58
IP Trunks 59
Session Border Controller (SBC) Models 62
Key Components Used in SBC Models 63
PSTN Offload 64
Network Hiding 65
Voice Security in Service Provider Networks 65
Securing VoIP Network Elements 65
Securing Call Signaling and the Media 66
Common Issues and Problems When Deploying IP-Based Telephony Services 66
Convergence-Related Issues 66
Issues in Media Affecting Quality 67
Issues in Signaling Affecting the Services and Features 67
IP Routing–Related Issues 67
High Availability and Convergence for Business Continuity 68
Summary 68
References 68
Chapter 4 Internet Telephony 69
Internet Telephony Deployment Model 70
Internet Telephony Network Elements 72
Internet Telephony Applications 73
PC-Based Software Voice Applications 73
ATA-Based Voice Applications 74
Traffic Profiling 74
Potential Bottlenecks 75
Wholesale VoIP Solution 75
Key Network Elements 77
Media Gateway Controller (MGC) 77
IP Transfer Point (ITP) 78
Route Server 78
Gatekeepers 79
Application Servers 79
Element Management Systems (EMS) 79
Wholesale Voice Applications 80
Prepaid and Postpaid Calling Solutions 80
Network Transit and Trunking Applications 82
Managed Services for Enterprises 83
Applications and Benefits for Service Providers 83
Common Issues and Problems with Internet Telephony 83
Last-Mile Connection Bandwidth 84
End Device/Application-Related Issues 85
No Customer Service-Level Agreements (SLA) 86
Issues with Emergency Calls (E911) 86
Security Issues 87
Summary 88
References 88
Chapter 5 VoIP Deployment Models in Enterprise Networks 89
Unified Communication Solution Components in Enterprise Networks 90
Unified Communications Manager/CallManager 90
Voice Gateways 91
Gatekeepers 92
Session Border Controller 93
Messaging Application 94
Rich Media Applications 95
Cisco Unified MeetingPlace and WebEx 95
Cisco Unified Presence 95
Cisco Emergency Responder 96
Cisco Unified Contact Center 97
Cisco Unified Application Environment 97
Common Enterprise Deployment Models 97
Centralized Call Processing 98
Distributed Call Processing 100
Hybrid Models 102
Common Issues and Problems 104
Convergence-Related Issues 104
Issues Affecting Media Quality 105
Voice-Signaling Protocol Impairments 106
Voice Security in Enterprise Converged Networks 106
Summary 107
References 107
Part III Performance and Optimization of VoIP Networks
Chapter 6 Managing VoIP Networks 109
Requirements for Enabling Voice in IP Networks 109
Network Readiness Assessment 110
Network Design 110
Network Infrastructure Services 112
Network Links 113
Hardware and Software Considerations 114
Power and Environment 115
Auditing for VoIP Network Readiness 116
Analyzing Configurations, Versions, and Topology 117
Synthetic Traffic Tests 118
Managing Network Capacity Requirements 118
Voice Traffic Engineering Theory 119
Example of Estimating Capacity Requirements 119
Monitoring Network Resources 122
An Audit for Gauging the Current VoIP Network Utilization 122
Device Utilization 123
Link Utilization 124
Measurements for Network Transmission Loss Plan 124
Effectively Monitoring the Network 127
Discovery—Complete Picture 128
Seed Devices for Network Discovery 129
Cisco Discovery Protocol (CDP) Discovery 129
Routing Table Discovery 130
ARP Discovery 130
Routing Protocol—OSPF Discovery 130
Ping Sweep Discovery 130
Seed Files 131
Voice Quality Metrics 131
MOS or K-factor 132
PSQM 132
PESQ 133
Approaches to Measure Jitter, Latency, and Packet Loss in the IP Network 133
Using Call Detail Records for Voice Quality Metrics 133
Using IP-SLA and RTTMON for Voice Quality Metrics 134
Using Cisco NetFlow for Measuring Voice Quality Metrics 135
Round-Trip Delay Measurement 136
Voice Jitter/Frame Slip Measurements 137
Measurement of Effective Bandwidth 137
Voice Band Gain Measurement 137
Silence Noise level Measurement 138
Voice Clipping 138
Echo Measurements 138
Voice-Signaling Protocol Impairments in IP Networks 139
How to Effectively Poll the Network 140
Polling Strategy 141
Key Alarms and Events Monitoring 143
SNMP Configuration and Setting 143
Basic Configuration 144
SNMP Trap Settings 144
Traps Use Case BTS 10200 Cisco Softswitch 144
Standard Polling Intervals and Traps 145
Scenario 1: Phones Unregistering from Unified CM and Reregistering to SRST Router Because of WAN Link Outage 145
Scenario 2: Phones Unregistering from the Unified CM and Reregistering to the SRST Router Because of WAN Congestion 146
Using eXtensible Markup Language (XML) for Polling and Extraction of Key Information 147
XML Overview 148
XML APIs 149
Using the Syslog/Trace Logs for Deep Analysis 150
Alarm and Event Audit and Correlation 151
Effectively Monitoring the PSTN Bearer Traffic 153
QoS in VoIP Networks 155
Defining a QoS Methodology 155
Differentiated Services (Diff Serv) for Applying QoS 155
Using Bandwidth/Resource Reservation and Call Admission Control (CAC) for Providing QoS 157
Managing QoS 157
PacketCable Use Case 159
Trouble Ticketing (TT) Systems 162
Identifying and Streamlining the Categories of Trouble Tickets 162
Correlating the TT to the Service Uptime 162
Summary 163
References 164
Chapter 7 Performance Analysis and Fault Isolation 167
Proactive Monitoring Through Performance Counters 168
Classification of Performance Counters 168
Network Device KPIs 168
Functional- or Services-Based Grouping of KPIs 169
Fault Isolation–Based Grouping of KPIs 173
Protocol-Based Grouping of KPIs 174
SLA Tracking Through KPIs 175
Equipment-Based Grouping of KPIs 177
Collection 177
Alarm Processing 178
Correlation 179
Simple Correlation 180
Advanced Correlation 180
Complex Correlations 181
Recommendations for VoIP-Centric Network Management Framework 182
Performance Analysis from a Transit Network Perspective 183
Signaling Protocol Transport Optimization 184
Enterprise Networks 184
Cisco IOS QoS Recommended SNMP Polling Guidelines 187
Case Study of Link Congestions 187
SP Networks 194
Performance Data in an Enterprise VoIP Environment 197
CPU Status 198
Physical Memory 198
Hard Disk Status 199
High Utilization of Disk Space 199
Virtual Memory 199
Number of Active Phones 200
Gateway Registration (MGCP) 200
Gatekeeper Registration (H.323 RAS) 200
Calls in Progress 201
Calls Active 201
Calls Attempted 202
Calls Completed 202
PRI Channels Active 203
Conferencing/Transcoding DSP's Depletion 203
Available Bandwidth of a Location (CAC) 204
Recommendations for Categorizing Performance Measurements 204
Enterprise Case Study—Analyzing Network Performance 206
CPU Rate and Critical Processes 206
Rate of Active Calls 207
Tracking Trunk Utilization for PSTN Access 208
Trend Analysis Best Practices 211
Performance Analysis from Call Agent Perspective 211
Performance Analysis for VoIP Call Traffic 211
Performance Analysis for a PSTN Network (PSTN Trunk and SS7 Signaling) 215
Performance Analysis for an SIP Network 217
Performance Tracking for a Session Border Controller (SBC) 218
Performance Information Through the Call Detail Records (CDR) 219
Performance Enhancement Schemes and Their Effect on VoIP Network Monitoring 220
Effect of DNS Caching 220
Server Load Balancing 220
Firewall 220
Optimizing the SBC 221
Performance Analysis from a DOCSIS Network 221
VoIP Endpoints 222
DOCSIS/DQoS 224
CPU Impact/Link Utilization 226
Trace Log Monitoring on Softswitch and Network Devices 229
Analyzing and Correlating Syslog Messages 230
Log Files Management 231
Security 231
Storage Location (Local Versus Remote) and Archiving Logs 233
Tools and Scripts 234
Tools for Monitoring an Enterprise VoIP Network 234
Cisco Unified Operations Manager (CUOM) 234
Cisco Unified Service Manager 236
Cisco Unified Service Statistics Manager 237
Tools for Monitoring Service Provider VoIP Networks 239
IXIA's IxRave Solution 239
IxRave Case Study—Voice Assurance for Cable Networks 240
Tools for Monitoring DOCSIS Networks—VoIP Dashboard 242
Tools for Monitoring VoIP Network Health Through Protocols 244
Tools for Analyzing Call Detail Records 246
SP CDR Report Scenario 246
Customizing CDR Reporting for Effective Monitoring 247
Dashboard Views for the VoIP Network 247
Software Maintenance 248
Software Release Management 249
Software Lifecycle Management 249
Software Resiliency 251
Periodic Auditing of a VoIP Network 251
Summary 254
References 254
Chapter 8 Trend Analysis and Optimization 257
Trend Analysis Through Key Metrics 258
Dashboard as a Profiling Tool 259
Network Utilization and Efficiency 260
Safeguarding Network Resources from Potential Security Threats 261
Dashboard for Trunk Resources Utilization 265
Feedback for Change Control 266
Profiling in an SP VoIP Network 271
Profiling in an Enterprise VoIP Network 277
Balancing the Device Load on CUCM Cluster Nodes 278
Maximizing Trunk Capacity and Avoiding Call Blocking 280
Call Detail Record–Based Trend Analysis 283
Benchmarking 283
Verifying VoIP Network Resources Capacity 284
SLA Conformance 286
Monitoring for Service Availability 286
Normal Versus Abnormal Termination Profiling: Categorizing and Correlating the Call Termination Code 288
Monitoring for Service Quality 289
Verifying Toll Savings (On-net Versus Off-net Profiling) 289
Detecting Toll Frauds 291
Resource Optimization and Capacity Planning 291
Network Resource Utilization and Optimization 291
Capacity Planning and Upgrade Strategies 296
Managing Subscriber Growth Impact by Using Trend Analysis 298
UC Manager Cluster Capacity 298
Network Bandwidth and Transcoding DSPs 299
Considerations for Adding Trunk Capacity 302
Summary 302
References 302
Part IV Appendixes
Appendix A Scripts and Tools for Monitoring and Troubleshooting VoIP Networks 305
Appendix B Detailed Call Flows 331
Appendix C VoIP Dashboard 367
Appendix D Debugs, Traces, and Logs 373
9781587055287 TOC 7/1/2010
Purchase Info
ISBN-10: 1-58705-920-7
ISBN-13: 978-1-58705-920-9
Format: Safari PTG
This publication is not currently for sale.