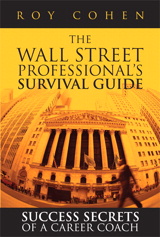 Description
The Wall Street Professional's Survival Guide: The Secrets of a Career Coach is the only complete, up-to-date, and practical guide for financial industry professionals seeking new or better jobs in today's brutally competitive environment. Author Roy Cohen spent more than 10 years providing outplacement services to Goldman Sachs' employees. In this book, he shares finance-specific job-hunting insights you simply won't find anywhere else.
Drawing on his immense experience helping financial industry professionals find and keep outstanding positions, Cohen tells you what to do when and if you're fired (or ready to move), how to develop a "game plan" and search targets, how to build your "story", how to move from the sell-side to the buy side, and much more. You'll find industry-specific guidance on interview strategy, resumes, follow-up, references, and even negotiation with real examples drawn from Cohen's own practice.
Table of Contents
Chapter 1: The Wall Street Job Search: Winning in Any Market 1
Chapter 2: You've Been Fired, Now What? 11
Chapter 3: Self Assessment: The Secret Weapon of Job Search 29
Chapter 4: Stick the Landing: How to Move Successfully from the Sell-Side to the Buy-Side 55
Chapter 5: The Art of the Bear Market Resume 75
Chapter 6: Networking: Just Do It, Please 109
Chapter 7: In the Arena: Mastering the Interview 131
Chapter 8: Write On: Effective Career Correspondence 179
Chapter 9: Win-Win Negotiating in Job Search 197
Chapter 10: References, Skeletons, and You 231
Chapter 11: Conclusion 252
Index 253
Purchase Info
ISBN-10: 0-13-136209-7
ISBN-13: 978-0-13-136209-3
Format: Safari PTG
This publication is not currently for sale.