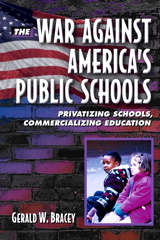 Table of Contents
I. PART ONE.
Introduction.
Prologue: The War on America's Public Schools.
Dueling Visions.
The Master Myth: Money Doesn't Matter.
The Historical Context.
The Condition of American Public Education.
II. PART TWO.
Charter Schools.
Private Schools and the Private Management of Public Schools.
Vouchers.
Commercialization in the Schools.