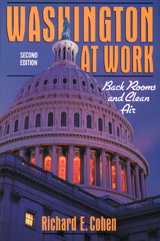 Table of Contents


Note On Sources.


1. It's Tough to Get Things Done.


2. Early Clean-Air Politics.


3. The Reagan Years: Defining the Limits.


4. Bush Breaks the Logjam.


5. Crumbling Committees.


6. The Senate Leader Takes Over.


7. Special Interests and Influence.


8. Behind the House's Closed Doors.


9. Making Alternative Deals.


10. Conference Committee Reaches Common Ground.


11. Clearing the Air.


12. Epilogue: The Conflicts Resume


Index.


About The Author.