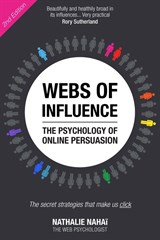 Description
As legions of businesses scramble to set up virtual-shop, we face an unprecedented level of competition to win over and keep new customers online.
At the forefront of this battleground is your ability to connect with your customers, nurture your relationships and understand the psychology behind what makes them click.
In this book The Web Psychologist, Nathalie Nahai, expertly draws from the worlds of psychology, neuroscience and behavioural economics to bring you the latest developments, cutting edge techniques and fascinating insights that will lead to online success.
Webs of Influence delivers the tools you need to develop a compelling, influential and profitable online strategy which will catapult your business to the next level – with dazzling results.
Table of Contents
Thanks
Publisher's acknowledgements
About the Author
Introduction
Part 1 Know Who You're Targeting
1. The human brain
2. The psychology of decision-making
3. Who is online and why?
4. Who are you targeting?
5. Cultural quirks
6. Individual differences
Part 2 Communicate Persuasively
7. Basic principles
8. Your website
9. Your images
10. Your videos
11. Your colours
12. Your social media
Part 3 Sell with Integrity
13. Influence: an introduction
14. Principles of online influence
15. Building reputational capital
16. Increase your sales
17. Pricing and value
18. The 'behaviour chain'
19. Risk, trust and privacy
A closing note…
Notes
Glossary
Index
Purchase Info ?
With CourseSmart eTextbooks and eResources, you save up to 60% off the price of new print textbooks, and can switch between studying online or offline to suit your needs.
Once you have purchased your eTextbooks and added them to your CourseSmart bookshelf, you can access them anytime, anywhere.
Buy Access
Webs of Influence CourseSmart eTextbook: The Psychology of Online Persuasion
Format: Safari Book
$17.99 | ISBN-13: 978-1-292-00835-6