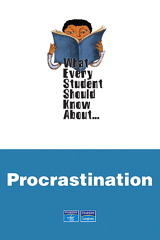 Description
Offering a complete approach to procrastination, "What Every Student Should Know About Procrastination" includes self-assessments to help students determine their own personal types of procrastination, and then solutions that address each individual style. The basic tools offered in this supplement are proven methods that can save students time and money as they learn new habits in college and prepare for the work environment.
Table of Contents
Ta>
Introduction
I. Styles of Procrastination
Are You a Perfectionist Procrastinator?
Questionnaire
II. Situations Involving Procrastination
My Destiny / My Choice Questionnaire
What Type of Procrastinator are You?
III. Solutions to Procrastination
The "Chipping" Method: Starting Out in Small Steps Leads to Bigger Steps
Planning
Prioritizing
Performing