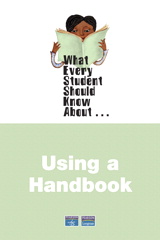 Description
What Every Student Should Know About Using a Handbook offers students concrete strategies for getting the most out of their handbook. It shows students that handbooks are all-in-one, easy to reference tools that can provide invaluable help when engaging in any type or writing or research assignment, whether in their introductory writing course or beyond. Teaching students to use all the sections of their handbook (writing process, research process, grammar, and style) with tips, exercises and scavenger hunts, this guide helps students use a critical reference tool to produce better papers and projects.
Table of Contents
Preface
Handbook Scavenger Hunt
Just what is a handbook, anyway?

Writing instruction
Research
Grammar & Punctuation

How is a handbook different from other reference books?

Atlas
Almanac
Thesauri and dictionaries
Handbooks

What can a handbook help me do?

Writing instruction exercise
Research exercise
Grammar & punctuation exercise
Problems student has with writing and finding solutions in handbook exercise

How do I find the information I need?

Inside covers
Divider tabs
Running heads and footers
Index
Revision guide

College Writing

Using a handbook for writing in courses for your major

How can a handbook help me improve my writing and get better grades in my courses?

Understanding an assignment
Responding to feedback and red ink
Writing an exam essay (on my midterm?)

How can a handbook help me with writing a research paper?

Choosing a topic
Online research/sources
Evaluating sources
Plagiarism
Documentation
Formatting a research paper

What kind of information does the handbook have for someone who speaks or writes in a different language?
Appendices
Now how well do I know my handbook? (exercise)
Full sample student paper
Online resources