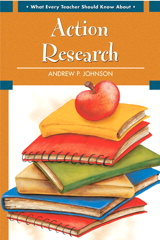 Description
This booklet covers some of the basic steps teachers can use in action research. From defining the problem, developing a plan of action, evaluating the plan and sharing it to solving real classroom problems, this handy guide provides students with the basics they need to know.
As a part of the What Every Teacher Should Know About Series, this guide can be packaged for free with a core Education text (with each additional WETSKA guide added at a cost of $2 net to the bookstore) and can also be purchased individually.

Purchase Info ?
With CourseSmart eTextbooks and eResources, you save up to 60% off the price of new print textbooks, and can switch between studying online or offline to suit your needs.
Once you have purchased your eTextbooks and added them to your CourseSmart bookshelf, you can access them anytime, anywhere.
Buy Access
What Every Teacher Should Know About Action Research, CourseSmart eTextbook
Format: Safari Book
$4.99 | ISBN-13: 978-0-13-703302-7