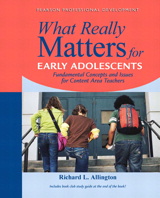 Description
The latest from well-known author and literacy expert Richard Allington is intended as the first step in preparing future teachers to provide early adolescents with high-quality literacy instruction. What Really Matters for Middle School Readers: From Research to Practice looks at the areas that struggling adolescents find most difficult—meaning, vocabulary, (especially for academic words), and inferential comprehension—and focuses on ways to foster accelerated growth. Dr. Allington stresses that through expanding the volume of high-success reading that students experience each day, as well as through the wide variety of additional classroom strategies and methodologies included in the text, middle school students can achieve a working literacy proficiency.
Table of Contents
Table of Contents
Preface
Chapter 1: Reading development in grades 5 through 9: Problems and promise
Chapter 2: It's not decoding that is the problem (but that is what most remediation targets)
Chapter 3: "It's the words, man": Limited meaning vocabulary and how to improve it
Chapter 4: Read more, read better: Addressing a major source of reading difficulties
Chapter 5: Reading with comprehension: Understanding understanding
Chapter 6: Literate conversation: A powerful but seldom used method for fostering understanding of complex texts
Chapter 7: Getting the gist of it all: Summarization after reading
Chapter 8: Pulling it all together: Effective instruction all day long
Appendix: Study Guide for What Really Matters for Middle School Readers
Purchase Info
Digital Choices
eTextbook ?
With CourseSmart eTextbooks and eResources, you save up to 60% off the price of new print textbooks, and can switch between studying online or offline to suit your needs.
Once you have purchased your eTextbooks and added them to your CourseSmart bookshelf, you can access them anytime, anywhere.