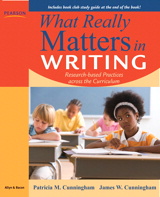 Description
This new entry in the best selling What Really Matters series turns its trademark "essentials and practices" treatment on the skill of writing. Pat Cunningham explains how to get students started writing and what to do once they are. Dedicated chapters for spelling, editing, and revising help teachers introduce these skills as critical parts of the writing process. Pat also explains how to extend writing, editing, and revising across the curriculum, to bring the benefits of writing and critical thinking to all content areas. Filled with student examples, sample lessons, and activities, this is one all-around resource no teacher should be without!
Written by the authors you know and trust, each of the books in the What Really Matters series offers a succinct presentation of what matters most when teaching different aspects of the reading process. With a thought-provoking, rich presentation, Pat Cunningham and Dick Allington explore complex issues teachers of reading face in today's classrooms and bring each of the topics to life. These brief and inexpensive books are written in a lively narrative with clear organization, exceptional pedagogy, and special features. Their friendly design and compact size make the books accessible, convenient, and easy-to read.
Table of Contents
Contents
Chapter One Getting Writing Off to a Good Start
Chapter Two What Do I Do Once I Have Them Writing?
Chapter Three Spelling Matters!
Chapter Four Think-writes: Writing to Learn across the Curriculum
Chapter Five Editing Matters!
Chapter Six Writing and Editing across the Curriculum
Chapter Seven Revising Matters!
Chapter Eight Revising across the Curriculum
Chapter Nine Sharing and Publishing
Chapter Ten Writing Interventions
Chapter Eleven Research on Teaching Writing