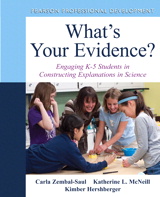 Description
Successfully integrate scientific explanation into the classroom with a wealth of strategies including scenarios, examples of student writing, classroom video clips from across all science content areas, rubrics, and guidelines for designing assessment items.
Grounded in a nine year, National Science Foundation (NSF)funded research project led by Katherine McNeill and Joe Krajcik, Supporting Students with Writing Scientific Explanations presents middle grades science teachers with an effective framework that breaks down the complex practice of scientific explanation into four components–claim, evidence, reasoning, and rebuttal. Their model provides teachers with a concrete roadmap for enhancing students conceptual understanding and improves their ability to think and communicate more scientifically by carefully analyzing evidence and backing up their claims.
The book includes step-by-step directions for presenting the framework to students; creating learning tasks that connect scientific explanation writing to lessons; providing curricular scaffolds (that fade over time) to support students in their writing; critiquing explanations and providing students with feedback; developing scientific explanation assessment tasks; and using the information from assessment tasks to inform instruction. Teachers will learn how to adapt their science content instruction in order to better meet the needs of all students.
Table of Contents
Chapter 1: Importance of Engaging K-5 Students in Scientific Explanation
Introduction to engaging K-5 students in scientific explanation
Why teach children to construct scientific explanations?
Scientific explanations in the classroom
Connecting science and literacy through scientific explanation
Benefits of engaging students in scientific explanations
Understanding science concepts
Participating in scientific practices
Using evidence to communicate convincingly
Learning about the nature of science
Benefits of scientific explanation for teachers
What to expect in elementary grades
Check Point
Study Group Questions
Chapter 2: Framework for Explanation-Driven Science
Framework for explanation-driven science
Claim
Evidence
Reasoning
Rebuttal
Video Example – Introducing the instructional framework
Examples of scientific explanations
Life science example
Earth science example
Physical science example
Increasing the complexity of the framework over time
Variation #1: Claim and evidence
Variation #2: Using multiple pieces evidence
Variation #3: Providing reasoning
Variation #4: Including a rebuttal
Check Point
Study Group Questions
Chapter 3: Planning for Explanation-Driven Science
Coherent Science content storyline
Essential features for constructing scientific explanations
Scientific data
Scientific principles
Learning performances and examples
First grade: Sound
Second grade: State of matter
Third and Fourth grade: Day/night and shadows
Fifth grade: Water cycle
Complexity of the learning task
Openness of the question
Characteristics of the data (type and amount)
Check Point
Study Group Questions
Chapter 4: Integrating Scientific Explanation into Classroom Instruction
Instruction sequence for constructing scientific explanations
Assessing prior knowledge
Framing the question
Making predictions
Collecting, recording and interpreting data
Constructing scientific explanations
Instructional strategies for supporting the explanation building process
Introducing the framework for explanation
Using real world examples to introduce the framework
KLEW(S) chart
Critique a teacher example
Debate a peer example
Talk moves for scaffolding the construction of scientific explanations
Check Point
Study Group Questions
Chapter 5: Designing Assessment Tasks and Rubrics
Overview of the development process
Step 1: Identify and unpack the content standard
Fourth grade writing case – Unpacking
Third grade podcast case – Unpacking
Step 2: Selecting scientific explanation level of complexity
Fourth grade writing case – Level of complexity
Third grade podcast case – Level of complexity
Step 3: Create learning performances
Fourth grade writing case – Learning performance
Third grade podcast case – Learning performance
Step 4: Write the assessment task
Fourth grade writing case – Assessment task
Third grade podcast case – Assessment task
Step 5: Develop specific rubric
Fourth grade writing case – Rubric
Third grade podcast case – Rubric
Using assessment data to inform instruction
Fourth grade writing case – Examples
Incomplete evidence and incomplete reasoning
Incomplete evidence and complete reasoning
Third grade podcast case – Example
Assessing informal science talk
Check Point
Study Group Questions
Chapter 6: Creating a Classroom Community of Young Scientists
Norms of participation in science learning
Active listening and patterns of talk
The role of the scientific explanation framework
A culture of constructive criticism
Check Point
Study Group Questions