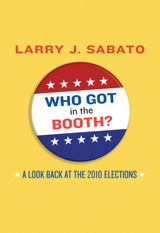 Description
Larry J. Sabato, prominent election scholar and political commentator, and a team of scholars and election experts who are closest to the action, look at the 2010 campaigns and elections and offer fresh insights and trenchant commentary. Who Got in the Booth? takes you inside the most significant events and issues of this election cycle to see what affected the Midterm elections.
Table of Contents
Preface

Chapter One: Pendulum Swing: Midterm Elections of 2010
By Larry J. Sabato
Chapter Two: The 2010 Midterm Elections: The GOP Strikes Back
By Alan Abramowitz

Chapter Three: The Tea Party
By Rhodes Cook


Chapter Four: Spill Politics
By Bruce Alpert

Chapter Five: The 'Unipolar Moment' Passes
By James Kitfield

Chapter Six: The Battle: Who Decides in Health Care?
By Chris Conover

Chapter Seven: Economy and the Election: It's All About Jobs
By Steve Liesman

Chapter Eight: Beyond News: Media in the Era of the eCampaign
By Diana Owen

Chapter Nine: A Referendum, Not A Choice: GOP Strategy for the 2010 Midterm Elections
By Bill Pascoe

Chapter Ten: Bracing For Blowback: Democrats in the 2010 Midterm Cycle
By Tom Schaller