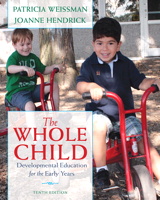 Description
Written for Introduction to Early Childhood Education courses.
A classic in the field, this practical methods text provides a complete developmental approach to early childhood education giving teachers the specific skills they need to teach the whole child--emotionally, socially, physically, creatively, and cognitively.
Birth to Age Eight.
Written in a warm, engaging style, the authors present foundational information about the field and working with young children, as well as a strong rationale for teaching the whole child, focusing on the five developmental "selves" of children. The text's developmental domain chapters begin with discussions of physical and emotional health, proposing that they are fundamental to the well-being of children. Discussions also place children in the context of contemporary family life and the multicultural world today. Throughout, they clearly provide practical guidelines, methods and materials that address the entire individual, not just curriculum topics. Further, in this day and age of teaching mandates and standardized testing, the authors address how to meet school standards while remaining true to developmentally appropriate practice. With an emphasis on emergent curriculum, intentional teaching, and the Reggio approach, students learn about "best practices" in a way that is accessible and encouraging to the novice teacher.
The Whole Child
is a sensible methods book that explains how to teach young children in ways that foster healthy development, emphasizing all aspects of the child and what they need from the learning environment in order to thrive.
Table of Contents
Part I The Basics of Good Early Childhood Education
Chapter 1 What Is Good Education for Young Children?
Chapter 2 Collaborating with Families
Chapter 3 Fostering Creativity in Play
Chapter 4 Providing Cross-Cultural, Nonsexist Education
Chapter 5 Welcoming Children Who Have Special Education Requirements
Chatper 6 Using Standards and Assessment in Early Childhood Education
Chapter 7 Arranging a Good Day for Young Children: Daily Routines and a Supportive Classroom Environment
Part II Supporting the Development of the Whole Child
Chapter 8 Promoting the Development of the Physical Self
Chapter 9 Strengthening the Development of the Emotional Self
Chapter 10 The Social Self: Encouraging Social Competence in Young Children
Chapter 11 The Social Self: Fostering Self-Discipline and Conflict Resolution Skills
Chatper 12 Fostering the Development of Language Skills
Chapter 13 Fostering the Emergence of Literacy
Chapter 14 Supporting the Development of the Cognitive Self
Chapter 15 Nurturing the Development of the Creative Self
Chapter 16 Developing the Whole Child; Becoming the Whole Teacher