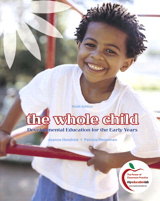 Description
"If we offer the young children we teach rich and appropriate learning opportunities combined with enough time for them to enjoy and experience those opportunities to the fullest, we will enhance childhood, not violate it."
The Whole Child is a practical methods book that explains how to teach young children in ways that foster healthy development. This text focuses on the "whole child" and what they need from the learning environment in order to thrive. It pictures the child as being made up of "selves" - emotional, social, physical, creative, and cognitive--and then examines each of those selves in turn. The physical self includes not only large and fine muscle development, but also the handling of routines because such things as eating, resting, and toileting contribute much to physical comfort and well-being. For the emotional self, the book considers ways to increase and sustain mental health, to cope with crises, to use discipline to foster self-control, to cope with aggression, and to foster self-esteem. Included for the social self are ways to build social concern and kindliness and learning to value the cultures of other people. The creative self covers the areas of self-expression through the use of art materials and creativity as expressed in play and applied in thought. Finally, the cognitive, or intellectual, self is considered in terms of language and literacy development--the development of reasoning and thinking skills via the emergent approach, and the development of specific reasoning abilities.
New To This Edition:
NEW! — Presents the content in a new 16-chapter format.
Chapter 6 is a new chapter on Assessment and Planning–Helps students understand the current emphasis on standards-based education and how to maintain "best practices" while meeting school requirements.

Chapter 15 is a new chapter, Fostering the Creative Self–Discusses what creativity is, how it develops, and what teachers can do to enhance children's creative growth.

Chapter 16 is a new chapter, Developing and Implementing Curriculum for the Whole Child–Helps students pull together the different elements of early childhood education into a cohesive program for the whole child.

Other chapters were combined and streamlined for more practical use by instructors. (The content from Chapter 7, Tender Topics, has been integrated into other chapters.)
NEW! Discusses the integrated curriculum–Helps students understand the importance of meeting all of the children's developmental needs across the curriculum spectrum.
NEW! Presents new information about the ecological theory of human development as outlined by Urie Brofenbrenner.
NEW!
Includes content on children in elementary grades 1-3 in each chapter–
Expands the usefulness of the text to primary school teachers.
Table of Contents
Part I The Basics of Good Early Childhood Education
Chapter 1
What Is Good Education for Young Children?
Realize You Are Part of a Noble Profession
Can Early Childhood Make a Difference?
Brain Development Research
Effects of Early Childhood Education
Research Implications for Teaching
Theoretical Foundations of Early Childhood Education
Developmental Approaches
Psychoanalytical Theory
Family-Ecological Theory
Active Learning, Constructivist Theories
Behaviorist or Learning Theory
From Theory to Practice
Types of Early Childhood Education
All Programs Include Children with Special Needs
Center-Based Care
Family Child Care
Public School Programs
A Final Thought About Programs
Basic Premises of This Book
Putting Premises Into Practice: Planning a Good Day For Children
Good Human Relationships Are a Fundamental Ingredient of a Good Day
Families Must Be Included as Part of the Life of the School
High-Quality Education Must Be Developmentally Appropriate
High-Quality Education Is Individualized
High-Quality Education Honors Diversity in Its Many Forms
High-Quality Education Uses Reasonable and Authentic Methods of Assessment to Find Out More About the Children
High-Quality Education Has a Balance Between Self-Selection and Teacher Direction; Both Approaches Are Valuable
High-Quality Education Should Be Comprehensive
High-Quality Education Has Stability and Regularity Combined with Flexibility
High-Quality Education Has Variety
Learning Must Be Based on Actual Experience and Participation
The Program Should Be Reflected on Daily
High-Quality Education Promotes Ethical Standards for Teachers
High-Quality Education Should Encourage Advocacy
The Day Should Be Pleasurable
Chapter 2
Working with Families
Opening the Door to Good Communication
Understanding Families
Family Diversity
Challenges to Working with Families
Suggestions for Establishing a Good Relationship Between Family and Teacher
What If The Relationship Is Not Good?
The Preamble: What to Do Before the Situation Arises
Coping with the Initial Encounter: What to Do When That Button Is Pushed
What to Do After the Complainer Departs
The Return Engagement
Maintaining Good Relationships: Keeping the Lines of Communication Open
Counseling with Families
Practical Pointers about Conducting a Conference
Avoid Interruptions
Beginning the Conference
During the Conference, Stay as Relaxed as Possible
Drawing the Conference to a Close
What to Do After the Conference
Finally, Remember That Information Shared by Parents During a Conference Is Confidential
Limits to Guidance Work
Beyond the Conference: Further Strategies for Involving Families
Families in Crisis
What Constitutes a Crisis?
Some General Principles for Helping Families Deal with Crises
Make Certain the Families Understand That It Is Better to Include the Child in the Situation Than to Exclude Him
Try Not to Overreact, No Matter What the Family Tells You
Do Not Violate the Privacy of the Family
Offer Yourself as a Resource
Child Abuse, Neglect, Sexual Molestation, And Emotional Maltreatment
Chapter 3
Fostering Creativity in Play
Purposes of Play
· Play Fosters Physical Development
· Outdoor Play Connects Children to Nature and Their Environment
· Play Fosters Intellectual Development
· Play Enhances Social Development
· Play Contains Rich Emotional Values
· Play Develops the Creative Aspect of the Child's Personality
· Play Is Deeply Satisfying to Children
Developmental Stages of Play
Factors Likely to Facilitate Creative Play
Allow Children's Ideas to Develop and Avoid Dominating the Play
Some Practical Ways to Stimulate and Extend Play
Make a Special Point of Including Children Who Have Disabilities in the Play
Cast Yourself in the Role of Assistant to the Child as You Help Play Emerge
A Rich Background of Actual Life Experience Is Fundamental to Developing Creative Play
Offer Many Opportunities For Outdoor Play
Equipment Plays An Important Role in Facilitating Play
Keep Play Areas Safe and Attractive
A Final Thought
Specific Activities to Encourage Creativity in Play
Creative Dramatic Play — "Just Pretending"
Block Play
Water Play
Mud and Sand
Computer Play
Chapter 4
Providing Cross-Cultural, Nonsexist Education
Teachers' Attitudes
Can Such Attitudes Be Changed?
Suggestions for Controlling and Overcoming Expressions of Prejudice
Broaden Your Frame of Understanding and Acceptance; Find Out What People Are Really Like!
Is Early Childhood Too Soon to Begin Cross-Cultural, Nonsexist Education?
What Do Cross-Cultural and Nonsexist Education Have in Common?
Principles of Cross-Cultural Education
Recognize and Honor Cultural and Ethnic Differences: Encourage Cultural Pluralism
Value Individual Children For Their Special Qualities: Teach Cultural Pluralism
Beginning Steps: Include Concrete, Visible Evidence of Cultural Diversity
Suggestions That Foster Deeper Cross-Cultural Understanding
Emphasizing the Similarities As Well As Valuing the Uniqueness of People
Teach the Commonality of Biological and Psychological Needs
Help Families Look Beyond Various Differences to Focus on Common Goals
Keep Working Toward the Basic Goals of Socialization That Teach Children to Consider the Rights and Needs of Everyone
Can Teaching About Cultural Uniqueness and Similarity of Needs Be Combined?
Encouraging Equity By Providing a Nonsexist Education and Helping Children Value Their Own Sexuality
Teaching Simple Physiological Facts
Masturbation
Meeting the Special Needs of Boys in School
Suggestions For Providing a Nonsexist Curriculum
Chapter 5
Welcoming Children Who Have Special Needs Into the Life of the School
Identifying Children Who Have Special Needs and Finding Help For Them: The Teacher as a Screening Agent
Referring Children for Special Help: Calling the Difficulty to the Family's Attention
Finding the Appropriate Referral Source
Observing Professional Ethics
Including Children Who Have Disabilities
What the Laws Say
When Planning the IEP, It Is Essential to Have a Careful Assessment of the Child's Accomplishments and Abilities Available
Learning to Work as a Member of the Team
Getting Started with a Child Who Has a Disability
Welcome the Child and Family
It Is Important to Make it Clear to the Family That the Staff Has Great Goodwill but Also Has Certain Limitations
The Staff Will Have to Come to Terms with How Much Extra Effort the Child Will Require Them to Expend Every Day
It Will Be Necessary for the Staff to Examine Their Feelings About Children with Disabilities
Many Seemingly Insurmountable Problems Can Be Solved During the Trial Period If the Staff and Family Are Creatively Minded
There Are Several Ways to Ease Entry Pangs
Many Disabilities Will Pass Unnoticed by Other Children in the Group, But Some Will Require Explanation
General Recommendations for Working with Children Who Have Disabilities
See Through the Exceptional to the Typical in Every Child
Try to Steer a Middle Course, Neither Overprotecting nor Overexpecting
Be Realistic
Keep Regular Records of the Child's Development
Remain in Constant Contact with the Family
Identifying and Helping Children Who Have Physical Disabilities and Illnesses
Some Specific Physical Conditions and Symptoms of Which the Teacher Should Be Aware
Attention Deficit Disorder
Further Guidelines for Working With Children Who Have Physical Challenges
Identifying and Helping Children Who Have Emotional Difficulties
Signs of Emotional Disturbance That Indicate a Referral Is Needed
Guidelines for Working with Children Who Have Emotional Disturbance
Identifying and Helping Children Who Have Delayed or Advanced Mental Ability
Intellectually Gifted Children
Chapter 6
Using Standards and Assessment in Early Childhood Education
What Are Early Learning Standards?
Where Do Standards Come From?
Program and School Standards
NAEYC Program Accreditation Standards
State Early Learning Standards
What Is Assessment?
Effective, Appropriate Assessment in Early Childhood Education
Types of Assessment
Developmental Screening
Assessment to Support Learning and Development
Important Principles about Assessments
Children's Records Are Private and Should Be Kept Confidential
Use Assessment to Connect with Families
Carry Out Assessments More Than One Time
Take Varying Ethnic/Cultural Backgrounds into Account
Make Sure Assessments Are Comprehensive and Include Measures for All Five Selves
Put Assessment to Good Use in Planning Curriculum
Use Assessment to Benefit Children with Disabilities
Interpret Assessment Results Cautiously
Chapter 7
Handling Daily Routines
Schedules and Transitions into Routines
Schedules
Transition Times
Routines of Arrival and Departure
Introduce the Child to School Gradually
Handle Outbursts of Emotion with Care
Routines That Center Around Eating
Adequate Nutrition Is Important
Planning Appealing and Nutritious Meals
Some Basic Principles Having to Do with Eating
Special Eating Concerns
The Process of Toileting in Preprimary Centers
Diapering and Toilet Learning
Taking Children to the Toilet
Handling Mishaps
Handling Nap Times
Regularize the Routine
Allow the Children to Get Up as They Wake Up
How Long Should Children Sleep?
Should All Children Nap?
Part II Supporting the Development of the Whole Child
Chapter 8
Promoting the Development of the Physical Self
Promotion of Health and Safety in the Children's Center
Providing Safe Transportation to School is a Must!
Basic Ways to Protect and Foster the Physical Health of Children
Maintaining the Physical Safety of Children
Basic Principles of Physical Development
Development Occurs in Predictable Patterns and Sequences
The Course of Development Moves from Head to Tail
The Course of Development Moves from Large to Fine Muscle Control
Fostering Large Muscle Development in Young Children
Use of Apparatus to Promote Large Muscle Skills
Role of the Teacher in Fostering Large Muscle Play
Fostering Play in Children with Special Needs
Teachers' Support of Children's Fitness
Programs Should Encourage Physical Activity — and Plenty of it!
Use of Perceptual-Motor Activities to Enhance Physical Development
Fostering Fine Muscle Development (Daily Motor Activities)
Using Physical Activity to Promote Creative Thought and Self-Expression
Fostering Sensory Experience
The Sensory Experience of Close Physical Contact Is Important to Children
Chapter 9
Strengthening the Development of the Emotional Self
Importance of Developing Basic Attitudes of Trust, Autonomy, and Initiative in Young Children
Hallmarks of an Emotionally Healthy Young Child
Is the Child Working on Emotional Tasks That Are Appropriate for His Age?
Is the Child Learning to Separate from His Family Without Undue Stress and to Form an Attachment with at Least One Other Adult at School?
Is the Child Learning to Conform to Routines at School Without Undue Fuss?
Is the Child Able to Involve Himself Deeply in Play?
Is the Child Developing the Ability to Settle Down and Concentrate?
Is the Child Unusually Withdrawn or Aggressive for His Age?
Does the Child Have Access to the Full Range of His Feelings, and Is He Learning to Deal with Them in an Age-Appropriate Way?
Personal Qualities That Will Help the Teacher Establish an Emotionally Positive Climate in the Children's Center
Consistency
Reasonableness
Courage and Strength of Character
Being Genuine
Empathy
Warmth
Appreciation
Good Health
Practical Ways to Help Young Children Achieve Healthy Emotional Development
Remember That Children Have Different Temperaments
Reduce Frustration for the Children When Possible
Learn to Couple Language with Emotion by Identifying and Describing Children's Feelings to Them and by Helping Them Express These Feelings to Relevant People in an Acceptable Way
Teach Children the Difference Between Verbal Attack and Self-Report
Learn to Recognize Signs of Stress and Emotional Upset in Children
Know What to Do for Children Who Are Emotionally Upset
Promote Every Child's Sense of Self-Esteem
Unconditional Positive Regard
Honest Recognition and Praise
Respect
Helping the Child Achieve Competence
Allow Children to Experience Mastery by Making Their Own Choices and by Being as Independent as Possible
Provide Opportunities That Are Challenging but Not Excessively Difficult to Give Children the Chance to Test Themselves Against Difficulties
Emphasize the Value of Building Cross-Sex Competencies of Various Kinds
Make Certain That Children with Disabilities Experience Opportunities to Build Competence, Too
Offer Many Opportunities to Accomplish Meaningful Work
Offer Creative Activities Because They Provide Excellent Opportunities for Experiencing Competence
Help Children Connect with Nature to Soothe the Soul
Chapter 10
Enhancing the Development of the Social Self: Encouraging Social Competence in Young Children
The Importance of Helping Young Children Develop Social Competence
Developmental Trends in Social Growth
How Do Children Become Socialized?
Implications for Teaching
The Development of Social Skills
Helping Children Become Socially Competent: Suggestions for Teaching Appropriate Social Skills
Goal I: Help Children Develop Empathy
Goal II: Help Children Learn to Be Generous, Altruistic, and Able to Share Equipment, Experiences, and People with Other Children
Goal III: Help Children Learn That Being Kind to Other People Feels Good
Helping Other People Is One Way of Expressing Kindness
Goal IV: Teach Children That Everyone Has Rights and That These Rights Are Respected by All
Goal V: Emphasize the Value of Cooperation and Compromise Rather Than Stress Competition and Winning
Goal VI: Help Children Discover the Pleasures of Friendship
Goal VII: Help Children with Special Needs Fit into the Life of the Group
Chapter 11
Enhancing the Development of the Social Self: Fostering Self-Discipline and Conflict Resolution Skills
Discipline or Guidance Toward Self-Discipline?
Establishing Inner Controls: Ego Strength, Moral Development, and Social Awareness
Why Does Self-Control Matter?
Suggestions for Creating a Peaceable, Caring Classroom in Which Children Develop Self-Discipline and Conflict Resolution Skills
Reducing Aggression in the Classroom
Undesirable Ways to Cope with Aggression
Conclusion
Chapter 12
Fostering the Development of Language Skills
The Components of Language
How Children Develop Language
Contributions by Adults to the Child's Acquisition of Language
Developmental Milestones
Basic Ways to Foster Language Development
I. Listen to the Children
II. Give the Children Something Real to Talk About
III. Encourage Conversation Between Children
IV. Encourage Conversation and Dialogue Between Teachers and Children
V. Use Questions and Answers That Generate Speech and Develop Language
VI. When Necessary, Seek Professional Assistance Promptly
Language and Dialectical Differences
Which Language Should the Teacher Encourage?
Children Who Have Special Disabilities Related to Speech and Hearing
Children with Disorders of Articulation
Children with Delayed Speech
Children with Disorders of Hearing
Children Who Stutter
Chapter 13
Fostering the Emergence of Literacy
What Is the Difference Between Fostering Emergent Literacy and Teaching Children to Read and Write?
Some Fundamental Principles to Keep in Mind
Encourage Families to Read to the Children at Home
Teachers Should Make It Plain That They Value the Wonderful World of Books
Teachers Should Emphasize How Useful the Written Word Can Be
Even Very Young Children Can and Should Be Involved in Producing the Written Word
Writing on Their Own
Writing in the Primary Grades
Having Someone Write for Them
Suggestions for Presenting a Language-Rich Group-Time Experience
Include a Variety of Activities
Some Specific Suggestions About Materials to Include
Management Suggestions to Help Group Time Go More Smoothly
Chapter 14
Supporting the Development of the Cognitive Self
Approaches to Supporting the Development of the Cognitive Self
What is the Piagetian-Based "Conventional Approach" in Early Childhood Education?
· Basic Concepts of Piagetian Psychology
· How Is Piagetian Theory Linked with Such Midlevel Skills as Matching and Grouping?
How to Provide Opportunities for Practicing Concept Formation Skills
Develop Needed Materials
Provide Consistent Opportunities for Practice
Above All, Make Certain the Activities Are Fun
Some Practical Suggestions about Presenting Midlevel Thinking and Reasoning Skills in the Curriculum
Matching
Grouping
Perceiving Common Relations
Understanding the Relationship Between Simple Cause and Effect
Ordering
Use Questions That "Provoke" the Children into Thinking for Themselves as their Ideas and Mental Abilities Emerge
Sort Out the Different Kinds of Teacher-Generated Questions: Understand the Difference Between Using Fact and Thought Questions
Wait for Answers and Ask Only a Few Questions at a Time
Resist the Impulse to Always Answer the Children's Questions Yourself
Encourage the Child or the Group to Produce More Than One Answer
Chapter 15
Nurturing the Development of the Creative Self
What is Creativity?
The Importance of Creativity
Creativity Supports Emotional Development
Creativity Supports Social Development
Creativity Supports Physical Development
Creativity Supports Language and Literacy Development
Creativity Supports Cognitive Development
The Stages of Development in Children's Creativity
Implications for Teachers in Nurturing Children's Creativity
Use Lots of Self-Expressive Materials to Foster the Creative Self
Remember to Make Self-Expressive Opportunities Available for Children with Disabilities
Foster an Appreciation of Beauty
Chapter 16
Developing the Whole Child: Integrating the Five Selves Throughout the Curriculum
Selecting Values and Priorities in the Curriculum
Priority 1: Practice Intentional Teaching
Priority 2: Incorporate Developmentally Appropriate Practice (DAP)
Priority 3: Develop an Integrated Curriculum That Supports the Five Selves of the Whole Child and Teaches to Multiple Intelligences
Priority 4: Find Ways to Encourage Child-Centered Active Learning; Use an Emergent Curriculum Approach
Some Basic Concepts of Vygotskian Psychology
The Reggio Approach
Some Basic Principles to Remember When Using the Emergent Approach
Foster the Children's Ability to Generate Their Own Creative Ideas
Base the Curriculum on the Interests of the Children as Their Ideas Develop
Remember to Keep the Pathway Focused: Don't Let It Branch Off in Too Many Directions
The Number of Children's Ideas Will Be Increased If the Teacher Recognizes Their Value and Responds to Them in a Positive Way
Enable the Children to Translate Their Ideas into Concrete, Tangible Experiences
Also Allow Children to Experience Failure
Make Certain the Children Use Some Form of Expressive Medium to Explain to Other People What They Have Found Out
An Example of How Midlevel Mental Abilities Can Be Included — and Learning Standards Can Be Met — as Part of an Emergent Approach
Priority 5: Focus on Teaching Happiness and Joy in Learning as Much as Academic Skills
Additional Course Materials