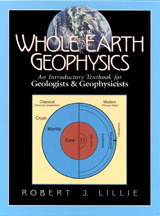 Table of Contents


1. Introduction.


2. Plate Tectonics.


3. Seismic Waves.


4. Seismic Refraction Interpretation.


5. Seismic Reflection: Acquisition, Processing and Waveform Analysis.


6. Structural and Tectonic Interpretation of Seismic Reflection Profiles.


7. Earthquake Seismology.


8. Gravity and Isostasy.


9. Magnetic Interpretation.


10. Heat Flow.


Appendix A: Sequenced Writing Assignment for Whole Earth Geophysics Course.


Appendix B: Units, Conversions, and Abbreviations.


Appendix C: Igneous Rocks: Classification, Properties of Magmas, and Tectonic Occurrence.


Appendix D: Answers to Selected Exercises.