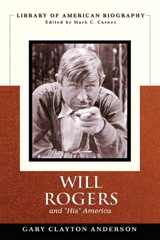 Description
This lively biography explores interwar America through Will Rogers, the comedian and commentator who witnessed it all: the stock market crash, the Great Depression, the advancement of technology, and the development of mass culture.
Born on a farm in rural Oklahoma, Will Rogers shared his rural, agricultural beginnings with a majority of Americans at the turn of the century. But Rogers brought his small-town talents to a national audience, becoming a mainstay of early American mass culture. Though Rogers is remembered today for his success in vaudeville and the nascent American film industry, history has largely forgotten his considerable influence as a political commentator, which Anderson explores at length. Rogers' contributions to early American mass culture, the catalog of powerful personages that he counted among his friends, and his extensive writings about the political issues of the day make Rogers an ideal figure through which to explore the American interwar period. College students will relate well to Rogers, whose political opinions evolved as he gained exposure to people, places, things and ideas beyond rural Oklahoma. Rogers' conflicted relationship with his American Indian heritage also provides window on the history of race relations in America.

Table of Contents
Introduction: Will Rogers and "His" America
Chapter 1: Will Rogers, the Opening Act
Chapter 2: The Pursuit of Fame
Chapter 3: The Renaissance
Chapter 4: A Liberal in an Illiberal Age
Chapter 5: Will Rogers, the Journalist
Chapter 6: Will Rogers and the New Liberalism
Chapter 7: Epilogue

Purchase Info ?
With CourseSmart eTextbooks and eResources, you save up to 60% off the price of new print textbooks, and can switch between studying online or offline to suit your needs.
Once you have purchased your eTextbooks and added them to your CourseSmart bookshelf, you can access them anytime, anywhere.
Buy Access
Will Rogers and "His" America, CourseSmart eTextbook
Format: Safari Book
$13.99 | ISBN-13: 978-0-205-84194-3