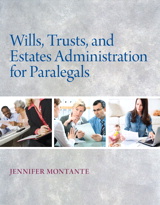 Description
For courses in Wills, Trusts, and Estates; Probate Law; and Financial Planning/Estate Planning.
Wills, Trusts, and Estate Administration for Paralegals provides a comprehensive overview of estate planning and probate in a manner that is straightforward and easy to read and understand. Instructor resources include an Instructor's Manual, PowerPoint lecture slides, and Test Bank, while a book companion site offers study resources for students.
Teaching and Learning Experience:
Includes frequent hypotheticals to illustrate key concepts and features.

"The Hypothetical Family" is a running example introduced in Chapter 1 and continued throughout each chapter to exemplify a fictional, but life-like, estate planning and probate scenario.

Drafting assignments are provided in each chapter, as well as the forms for every assignment.

Covers all of the major topics, including ethical considerations, and offers solid review and application of concepts.
Table of Contents
PART ONE
Introduction to Estate Planning
Property
Meeting with an Estate Planning Client: Components of a Basic Estate Plan
Advance Directives
Last Wills & Testaments
Testamentary and Non-Testamentary Trusts
Guardianships and Conservatorships
Fiduciary Powers and Duties
Testate v. Intestate Succession
PART TWO
Introduction to Estate Administration
Probate Part 1: Appointment of Personal Representative
Probate Part 2: Inventory and Appraisal
Probate Part 3: Creditor's Claims
Probate Part 4: Closing the Estate
Tax Considerations
Remedies for Improper Administration
Purchase Info ?
With CourseSmart eTextbooks and eResources, you save up to 60% off the price of new print textbooks, and can switch between studying online or offline to suit your needs.
Once you have purchased your eTextbooks and added them to your CourseSmart bookshelf, you can access them anytime, anywhere.
Buy Access
Wills, Trusts, and Estate Administration, CourseSmart eTextbook
Format: Safari Book
$59.99 | ISBN-13: 978-0-13-215135-1