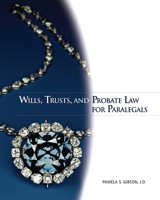 Description
For courses in Wills, Trusts and Probate.
With a focus on practice and portfolio development, this textbook provides a detailed approach to the substantive law of estate planning and administration. It includes examples of a variety of documents and step-by-step instruction on their preparation. Each chapter includes practitioner-oriented assignments (role-playing activities, research assignments, portfolio assignments etc.) and coverage of estate planning and estate administration is balanced throughout. A separate chapter is devoted to tax law and offers a closer look at this more complicated area of the law.
Table of Contents
1. Wealth, Property, and Estates
2. Intestate Succession
3. Basic Estate Planning
4. Drafting a Basic Will
5. Trusts
6. Overview of Estate Administration and the Personal Representative
7. Step One–Issuance of the Letters of Appointment
8. Step Two–Inventory and Appraisal; Step Three–Creditors' Claims
9. Step Four–Tax Documents
10. Step Five–Final Account; Step Six–Closing the Estate; Additional Estate Administration Procedures
Purchase Info ?
With CourseSmart eTextbooks and eResources, you save up to 60% off the price of new print textbooks, and can switch between studying online or offline to suit your needs.
Once you have purchased your eTextbooks and added them to your CourseSmart bookshelf, you can access them anytime, anywhere.
Buy Access
Wills, Trusts, and Probate Law for Paralegals, CourseSmart eTextbook
Format: Safari Book
$57.99 | ISBN-13: 978-0-13-208251-8