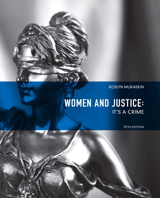 Description
It's a Crime: Women and Justice, Fifth Edition
,
is an all-inclusive work on women and issues of justice. The most complete text available, it compiles over 35 essays that explore issues such as: the history of women's issues; women and the law; women and violence; women and health problems; gender and race, women and prison; women and criminal justice professions; women and terrorism; and girls and delinquency. Written by Roslyn Muraskin and leading scholars in the field, this edition highlights over twenty-two new essays and presents a thought-provoking dialogue concerning the major issues women face in the criminal justice system.
Table of Contents
SECTION I
Historical development of women's issues
Chapter 1 "Ain't I a Woman?"
Roslyn Muraskin
Chapter 2 Feminist Theories
Roslyn Muraskin
Chapter 3 A Contextual History of Black Women Executions: a Chronicle of Resistance to Systemic Gendered Racism
David v. Baker
SECTION II
Women and the Law
Chapter 4 Mothers, Children and Crime: The Role of Parenting in Women's Desistance after Incarceration
Venezia Michalsen
Chapter 5 Perpetrators and Victims: Maternal Filicide and Mental Illness
Stacey L. Shipley
Chapter 6 Postpartum Syndromes and the Legal System
Cheryl L. Meyer and Tara C. Proano-Raps
Chapter 7 Listening to Women's Voices: Considering why Mothers Kill their Children
Cheryl L. Meyer and Cindy E. Weisbart
Chapter 8 Lives in Transition: A Needs Assessment of Women Exiting from Prostitution
Stacy L. Mallicoat
Chapter 9 Abortion: Is It a Right of Privacy or Compulsory Childbearing?
Roslyn Muraskin
Chapter 10 Murdering for Motherhood: A New Breed of Female Murderers
Etta F. Morgan
Chapter 11 Trafficking in Women
Ann Janette Alejanno Steele and Liying Li
Chapter 12 Human Trafficking of Young Women and Girls for Sexual Exploitation
Thozama Lutya
SECTION III
WOMEN: VICTIMS OF VIOLENCE
Chapter 13 Women: Second Class Citizens?
Roslyn Muraskin
Chapter 14 It's not Sex, it's Rape
Roslyn Muraskin
Chapter 15 Explaining Fear of Crime as Fear of Rape Among College Females: An Examination of Multiple Campuses in the United States
Rhonda R. Dobbs, Courtney Waid & Tara O'Connor Shelley
Chapter 16 National Crime Survey and Rape
Helen Eigenberg
Chapter 17 Domestic Violence or Intimate Partner Violence? (IPV)
Roslyn Muraskin
Chapter 18 Older Battered women: Telling the Stories of Four Women who live with IPV for Twenty Years or More
Suzanne Faries Lowe and Laura J. Moriarty
Chapter 19 Sexual Harassment: Part of the Continuum of Violence against Women
Roslyn Muraskin
Chapter 20 Female Victims and Cyberstalking Legislation
Janice Joseph
SECTION IV
Women Incarcerated
Chapter 21 Disparate Treatment of Women: Historical Overview
Roslyn Muraskin
Chapter 22 Gender and Corrections: Comparing Facilities and Programs
Alana Van Gundy
Chapter 23 Three Strikes and Its Women Who are Out: The Hidden Consequences for Women of Criminal Justice Policy Reforms
Mona J.E. Danner
Chapter 24 Behind the Walls of Injustice: Assessing the Impact of Maternal Incarceration on Women and Children
Zina T. McGee, Whytnee Foriest, Kdari Taylor-Watson, Amanda red, Tiffany and Brittany Kirkland
Chapter 25 Witnessing through Memoir: A Restorative Justice Tool
Erika Duncan
Chapter 26 Female Recidivists Speak about their Experience in Drug Court while Engaging in Appreciative Inquiry
Michael Fischer, Brenda Geiger and Mary Ellen Hughes
Chapter 27 Mentally Ill Women in Jails: Asylums for the Invisible
Rosemary Guido and Lanette Dalley
Chapter 28 Doing HIV/AIDS "time" : Healthcare needs of Women Prisoners
Barbara H. Zaitzow and Mark M. Lanier
Chapter 29 Women's Re-entry Experiences: Resources from Network Relationships
Hoan N. Bui
Chapter 30 Women on Death row
Etta F. Morgan
SECTION V
Women and Criminal Justice Professions
Chapter 31 Early Policing in the United States: "Help Wanted — Women Need Not Apply"
Martin L. O'Connor
Chapter 32 The Policies of United States Police Departments: Equal Access, Equal Treatment?
Corine Schulze
Chapter 33 A Paler Shade of Blue: Women and the Police Subculture
Kim M. Lersch and Thomas Bazley
Chapter 34 The Career Trajectories of Female Police Executives
Cara Rabe-Hemp
Chapter 35 The Dislike of Female Offenders Among Correctional Officers: A Need for Specialized Training
Christine E. Rasche
Chapter 36 Women in the Legal Profession: Challenges for the 21st Century
Jody Clay-Warner, Jennifer McMahon-Howard & Katie James
SECTION VI
A Note on Women and Terrorism
Chapter 37 Women's Attitudes Toward the Threat of Terror
Ramona Brockett, Jonathan C. Odo, & Peter Ezekwenna
Conclusions and a Look to the Future
Roslyn Muraskin