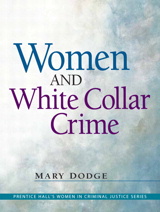 Description
For courses in White-Collar Crime and Women & Crime.
This book explores a neglected topic in criminology–women and white-collar crime. Taking a case study approach, it examines how women and crime has changed and why women have become more involved in corporate, political, and professional offenses. Fully exploring the topic, it discusses all issues including perpetrators, victims and whistle-blowers and incorporates interviews with female scholars and professionals. From insider trading to medical malpractice, it includes contemporary examples that engage the reader and promote discussion in a controversial area of study.
Table of Contents
1. Traditions of Masculinity
2. From Pink to White-Collar Crime: The Case of Embezzlement
3. When Opportunity Knocks: Women Who Commit White-Collar Crime
4. Positions of Political Power
5. Corporate Crimes Against Women
6. Professional Deviance: Occupational Crimes Against and By Women
7. Women as Whistle-Blowers
8. Great Expectations
Purchase Info ?
With CourseSmart eTextbooks and eResources, you save up to 60% off the price of new print textbooks, and can switch between studying online or offline to suit your needs.
Once you have purchased your eTextbooks and added them to your CourseSmart bookshelf, you can access them anytime, anywhere.
Buy Access
Women and White Collar Crime, CourseSmart eTextbook
Format: Safari Book
$27.99 | ISBN-13: 978-0-13-504393-6