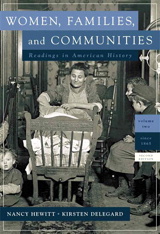 Description
Approaching women's history through case studies, this reader explores the connections between the private, personal experiences of American women, and the larger political, economic, intellectual, and social factors that shaped their lives. Suitable as a main text for women's history courses, or ast the perfect supplement to any U.S. history survey course, the articles in each volume address a broad spectrum of families and communities, including various racial, ethnic and class groups in different regions of the country.
Table of Contents
PART ONE: THE NEW AMERICAN ORDER
1) Hannah Rosen, "'Not that sort of women': Race, Gender and Sexual Violence during the Memphis Riot of 1866"
2) Kathryn Kish Sklar, "Hull House in the 1890s: A Community of Women Reformers"
3) Annelise Orleck, "Coming of Age: The Shock of the Shops and the Dawning of Working Women's Political Consciousness"
PART TWO: MODERN WOMEN
4) Kathy Peiss, "Putting on Style," Chapter 3 from Cheap Amusements (Philadelphia: Temple University Press, 1986): 56-76.
5) Tiffany Melissa Gill, "`I Had My Own Business…So I didn't Have to Worry': Beauty Salons, Beauty Culturists, and Black Community Life"
6) Kathleen Blee, "Women and the Ku Klux Klan: Klan Women in Indiana in the 1920s"
7) Jacquelyn Hall, "Disorderly Women: Gender and Labor Militancy in the Appalachian South"
PART III: COMMUNITIES IN CRISES
8) Julia Kirk Blackwelder, "Women of the Depression: Anglo, Black and Hispanic Families in San Antonio, Texas"
9) Susan L. Smith, "Women Health Workers and the Color Line in the Japanese American 'Relocation Centers' of World War II"
10) Evelyn M. Monahan and Rosemary Neidel-Greenlee, "Women under Fire: Frontline U.S. Army Nurses in World War II," chapter 4, "Staging for Italy," from And If I Perish: Frontline U.S. Army Nurses in World War II (New York: Alfred A. Knopf, 2003): 120-145.
11) Stephanie Coontz, "'Leave It to Beaver' and 'Ozzie and Harriet': American Families in the 1950s"
PART IV: MOBILIZING COMMUNITIES
12) Danielle L. McGuire "'It Was like All of Us Had Been Raped': Sexual Violence, Community Mobilization, and the African American Freedom Struggle"
13) Michelle Nickerson, "Moral Mothers and Goldwater Girls: Women and Grassroots Conservatism in the American Sunbelt"
14) Anne Enke, "Taking Over Domestic Space: The Battered Women's Movement and Public Protest" from The World the Sixties Made: Politics and Culture in Recent America, Van Gosse and Richard Moser, eds., (Philadelphia: Temple University Press, 2003): 162-184.
Part V: FAMILIES IN TRANSITION
15) Pierette Hondagneu-Sotelo, "New World Domestic Order: Immigrant Workers in Affluent America"
16) Maureen Sullivan, "Lesbian Mothers and Baby Making in the Age of Assisted Procreation," chapter 2 from Family of Woman: Lesbian Mothers, their Children and the Undoing of Gender (Berkeley: University of California Press, 2004): 40-61.
Additional Course Materials